Last month FlowForma was delighted to participate at the Festival of BIM & Digital Construction, the largest ever virtual event for digital construction. Throughout the Festival, the depths of the global BIM and Digital Construction market were explored with exclusive insights on future trends, key drivers, and the global response to digital transformation.
As part of this online festival, our Solutions Architect Paul Stone hosted a panel discussion alongside our customers Chris Henry of The A14 IDT (Integrated Delivery Team) Joint Venture and Paula Lemon at Maverick Corporation. During our session we were delighted to hear real world insights from both Paula and Chris into how their organizations are thriving not just surviving the new normal by digitizing their business processes with the FlowForma Process Automation tool.
Process Automation Importance
On the day our panellists discussed the importance of digitization and explored how businesses can adjust in this period of change. They also shared their own personal experiences with process automation as well as their top tips on how to prepare for the 'new normal' and the systems that have helped them adapt.
During the session Paul and his panel discussed topics such as:


Accelerating your digital transformation journey to increase productivity across the workforce
Technology trends in the construction industry and how to leverage technology for improved efficiency
The role of digital technology and process automation in post-coronavirus construction
Webinar Rewind
To get a better understanding of the conversations which were shared during this event, I suggest you view the webinar recording to hear directly from Paul and his panel about the benefits FlowForma Process Automation can bring to your construction firm, to save significant time and money on large scale infrastructure projects.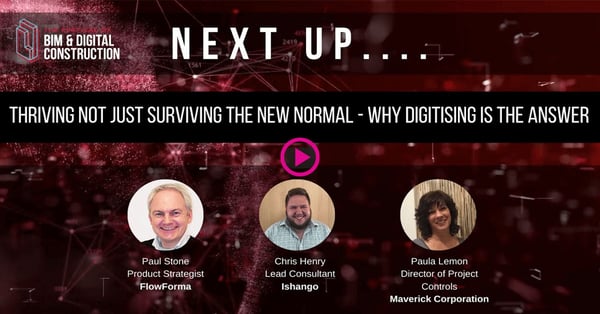 Watch the recording to:


Learn how process automation will empower your distributed workforce and transform your business
Understand why digitizing processes can help you prepare for a post-covid world
See how bringing processes online is easier than you think – hear top tips for becoming digitized
Find out how your construction peers have removed paper processes to drive productivity and profitability
For more information on how FlowForma is helping the construction sector to innovate quicker, mitigate risk, enable mobile users and power self-regulation visti our construction software page, or book a one-to-one call with one of our process experts.