From a HR perspective, the past six months have been a minefield of challenges due to COVID-19. It has become a firefighting exercise which has sometimes felt overwhelming.
Now, as we all prepare to return to the workplace, we are starting to see another increase in cases around the world and second waves in some countries. As a result, it's vitally important that we apply the recommended safety guidelines in our workplaces to mitigate the effects of COVID-19.
We must not forget that staff are still very worried about COVID-19, so it's important that we put in place a set of measures to ensure their safety and the safety of their families. Below is a list of five steps which we at FlowForma have implemented to help put employees' minds at ease when returning to the office, and how business process management software has helped.
1. Assign An Employee Representative
The first thing that we did at FlowForma was allocate an employee to represent the view of all staff. We wanted a collaborative approach to the measures we put in place to ensure the safety of others. The main role of the employee representative was to assist with the implementation of measures and to help monitor adherence. Our employee representative continuously addressed the concerns of staff in our COVID-19 Management meetings and played a vital role in ensuring that all staff concerns were actioned. The measures FlowForma put in place were enhanced significantly thanks to the contribution from the Employee Representative.
2. Keep Employees Informed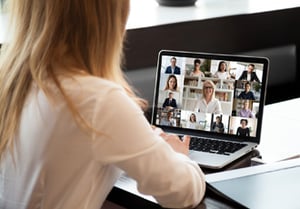 We use Microsoft Teams as our main collaboration tool, which I find amazing. A channel accessible to all staff was created in Microsoft Teams called 'COVID-19 advice and measures'. In this channel staff can access the latest government advice regarding COVID-19. Staff can also watch a video explaining how to prevent the spread of COVID-19 and what measures FlowForma has put in place to mitigate the spread of COVID-19 in the office. We also keep our FlowForma Contact log, 'Back To Work Forms', 'Visitors Request Forms' and many other forms in this channel as well. (Find out more about our Microsoft Teams app on this product information page).

3. Adjust Office Layout
It is very important to rearrange the office to ensure social distancing can be accommodated. Previously, our office had several rows of desks facing one another. We have now rearranged the desks into pods of two facing each other. Each pod has a screen in between the two employees. We have created these separated pods to allow for social distancing with a one-way system also put in place. Feedback from the staff has been very positive and they love the new look of the office. Once it was complete, I wondered why we had not done this earlier!
4. Sanitization Measures
Our first step was to educate the staff on the best practices for hand and respiratory hygiene as this is extremely important when it comes to preventing the spread of COVID-19. It is best never to assume that this is widely known.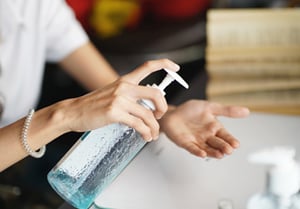 We also hung posters around the office to visually remind staff of the best practices. Before opening the office, we organised a deep clean. Sanitation stations were set up at the entry and exits and at focal points in the offices. Each employee was given their own hand sanitiser, cup with name, knife, and fork to minimize sharing.
Our cleaner disinfects frequently touched surfaces each evening and we have a rota for staff to disinfect frequently touched surfaces during working hours. We have replaced all bins with pedal bins in the office and have also put a pedal bin at each pod. The measures that we have put in place for this has been key to helping staff feel safer in the office.
5. Maintain Some Level Of Remote Working
There is an appetite for employees now to have some level of remote working. We have had requests from employees to both remain working remotely, and to reopen the office. Employees who are living with others and sharing an internet connection with many, employees who want more social activity during work hours and employees with young families have asked to work from the office. Whereas employees who are considered high risk for COVID-19, live with people who are at higher risk, who have to use public transport and who have childcare obligations have all expressed a need to work from home at this time. Keeping this in mind, flexibility is key.
While employees have been grateful that we have reopened the office, we also need to ensure that all the processes we implemented and learning's we gained during the COVID-19 lockdown continues to be part of how we run our company.
Additional Assistance
Health and Safety Authorities have provided some fantastic guidelines, document templates and poster templates that every company can avail of. We have used many of these as we went through the process of reopening the office.
We also used the return to work processes in FlowForma Process Automation, which are in line with the government guidelines and recommendations, to ensure that we have implemented the necessary measures to defend against the spread of COVID-19. The measures we have implemented took a lot of time, resources, and effort but it was a small price to pay to help our staff feel safer back in the office environment.
For more information on return to work processes and preparing for the new normal, visit our COVID-19 Center.