Here at FlowForma, we are committed and passionate about providing the best service possible for our customers and users. In my role as Head of Customer Success, I'm constantly in contact with our customers in a bid to help them with any questions they may have, at whatever stage they may be, as they look to digitally transform their business processes.
We know from personal experience that change can be challenging at times. For example, if you have ever been in charge of implementing new software such as a process automation solution in your business, you have likely also encountered the transition from the initial onboarding to the follow-up support.
In the beginning, you had someone guide you to prevent mistakes, and then all of a sudden you're on your own, and there's nobody there to help until you've already run into issues.
The good news is that it doesn't have to be that way. Most SaaS companies have adopted a different approach to "support" in recent years and set up a customer success team. But what exactly does that mean, and how can you make the most of it?
At FlowForma, many of our customers have something called an advisory support agreement. It's designed to allow that proactive approach that can save you a ton of time, and help your process automation project succeed quicker. Did you ever think about whether you're actually making the most of that agreement? Allow me to elaborate, as I'd like to help you plan for success.
Let's look at the traditional approach first - support.
Customer Support
You've been working on a new project and you run into an issue. Nothing is broken per se, but you just can't figure out how to make it work. At some point in time you give in and send off an email asking for help. You're obviously ready for an answer right now, but, alas, it takes a few hours before you get a reply, and by then you've tried four other things that didn't quite work either.
Tell me this, what mood are you in now? Slightly annoyed? Nobody did anything wrong, but you didn't reach the perfect solution as quickly as you wanted to.
Now imagine turning this approach upside down. This is what's known as the customer success approach, let's have a look at it.
Customer Success
Every Tuesday at 11 am you have a call scheduled with your favorite customer success rep (or a substitute, if they're on leave). You have no set agenda. The call might last 5 minutes, or it might last 30 minutes. It's a call to review new initiatives you're working on and get input on how best to go about it. It's also a call to get assistance, if you need it.
See what happened here? You asked for "support" before you ran into a problem, and I bet you'll feel pretty good about yourself once you've implemented the agreed items without any trouble at all.
You should still get in touch when you get stuck. At times, you might also need to set up two calls per week, and at other times you might not need any.
Let's be proactive together. Let's prevent issues together. Let's succeed together!
Working Together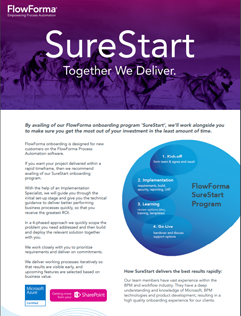 Remember, as a new FlowForma customer we will work closely alongside you to ensure you reap the best rewards from your investment, as part of our SureStart onboarding package. This has been created to assist new FlowForma Process Automation customers to deliver their first project within a rapid timeframe.
Alternatively, you can avail of our extensive two day training course to get you quickly up and running. Can't attend training face-to-face? No problem, we can roll out the training remotely, providing you with the flexibility and accessibility you require!
And as always, if in doubt, just reach out!