HR processes tend to be those that everyone is familiar with: annual appraisals, leave requests, development plans, contracts management, onboarding.
However, even though these processes are often designed well, they might be implemented poorly, causing lack of consistency and resulting in poor HR outcomes.
Every organization is different and HR processes need to adapt to your organization structure and culture, all while employment regulations must be adhered to.
What if you could have flexibility in process design to accommodate the unique requirements of the organization, while also enforcing rigidity in execution, ensuring high standards and satisfying regulators? With FlowForma BPM Workflow Management Tool you can.
As a web based system, operating on SharePoint in Office 365, FlowForma BPM is easily accessible to every employee. In addition, forms are always available via the mobile app, to allow employees, managers and HR staff to participate in workflows while away from their desk.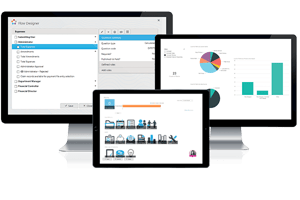 Having all workflow activity stored in one place allows the HR Department to see when resources are completing their work, and also serves to highlight any possible bottlenecks, where processes may be incorrect or resources are under-performing.
In addition, FlowForma BPM allows the HR Department to link processes together, giving a wider view. A new employee requisition may be linked to a recruitment campaign, contract production, negotiations and ultimately employee onboarding. Everybody involved in the introduction of a new employee can see exactly how much effort is involved and where the process is, at a glance.
FlowForma BPM also provides an array of editable pre-built process accelerators, allowing you to quickly start designing and implementing your HR processes.
Try FlowForma now for free for 30 days or arrange a demo with one of our product experts to see how it can benefit your organization.