Microsoft Teams® is becoming increasingly popular right now, with over 75 million daily users. It offers any easy way to collaborate with co-workers when working remotely through video calls and instant messaging, but if you want to ensure productive collaboration, you need to go a step further.
Productive collaboration links activities in Teams to business processes, and in turn to the achievement of business goals. There are many apps for Teams that take you part way to success, simple task or schedule management for example, but FlowForma Process Automation ties everything together to link the work of you and your team to business processes and the outputs of collaboration.
FlowForma Process Automation provides a means to link Teams activity with structured processes, data and documents - all stored securely in SharePoint and accessed through the familiar Teams application.
FlowForma Process Automation App For Microsoft Teams
Recently we have expanded our Teams integration following the rise in Teams adoption among our clients and the Microsoft Office® 365 community. Our app for Microsoft Teams empowers you to see a dashboard view of your FlowForma processes and your FlowForma 'to-do' list, so you will never need to leave the Teams environment!
You'll also be able to use business rules to post messages in Teams from the workflow, removing the need for you to switch to your email app.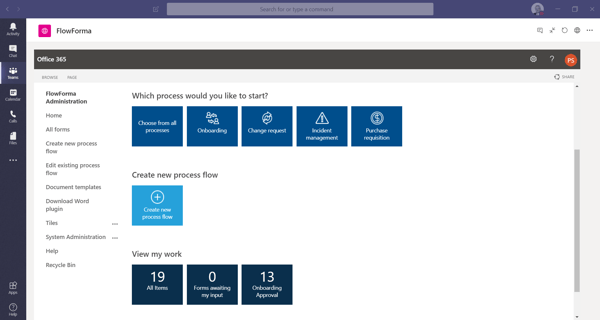 Fig. 1: FlowForma Teams App
Back in January 2018, FlowForma implemented its first Teams connector, allowing you to collaborate on a document in Teams and link that document to a step in a process. Now, for example, you can create a Teams channel and work as a team on a draft document. Link the document to FlowForma Process Automation and then process that through a set of revisions, then converting it to a final draft for approval and general release. Your FlowForma Process Automation forms, documents and data can now be viewed while staying inside the Teams application.
Users will now benefits from:


Instant access via Teams to a dashboard displaying the tasks you need to complete
Notifications as steps in your processes get completed or warnings when tasks are delayed
Making decisions collectively as a team by submitting individual scores on a task/challenge/issue to then review during a Teams meeting
Building out important processes as part of your meeting to collaboratively compile an online process

Achieving Business Goals
FlowForma Process Automation tracks progress on processes automatically. As you use Teams to collaborate, and the FlowForma Process Automation tool to link your efforts to business processes, the business can see how effective remote collaboration is in relation to the achievement of business goals. This is so important as companies implement new ways of working, adapting to change and the 'new normal' of the COVID-19 pandemic.
As we adapt and struggle with remote working, we need more than ever to keep our productivity high. Teams works well as a collaboration tool and FlowForma Process Automation provides the means to direct collaboration and maintain focus on being productive and staying ahead of the competition.
To learn more about how FlowForma for Microsoft Teams can encourage effective collaboration across your business visit our special Teams web page. Alternatively, you can reach out to one of our product experts for a more in-depth discussion.