Last week we were pleased to take part in an online webinar event, OPEX Week Live 2019, discussing all things operational excellence and business transformation, hosted by the process experts at Process Excellence Network.
During the three day event, which covered a vast range of digital technologies being leveraged by businesses, we took part in the round of discussions on day two. During our session we highlighted the impacts and benefits received by the A14 Integrated Delivery Team by automating their business processes. After all, people want to hear real world stories which showcase tangible and achievable goals being reached.
I guess you're probably wondering what exactly we shared with attendees on the day then aren't you?
Moving Paper Online
Shay O'Connor, Head of Solutions and Paul Stone, Solutions Architect at FlowForma offered the audience an up close, real world insight into how the UK's largest road construction project, a £1.5bn joint venture, addressed construction site challenges around paper-based business processes and governance.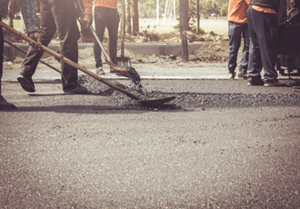 Replacing manual processes has become a consistent challenge for businesses in this industry. As you can imagine, construction sites can be quite vast in size, meaning logistics in getting sign off on a process can become difficult for process owners. Logistical issues such as these often lead to project delays and even in some cases, documents being lost. To put it into perspective, in the case of the A14 IDT there are more than 2,500 workers across the site.
Step forward FlowForma Process Automation.
This tool is revolutionizing the construction and engineering sectors due to its no code capability, meaning business people can complete processes such as site visit requests without the need for IT to administer. Employees can deploy these processes on-site without internet access using FlowForma's clever mobile app to cache information, photos and other documents! This information can then be uploaded once they obtain internet access at a later time.
Webinar Highlights
Attendees of our session during OPEX Week were treated with additional use cases of automating construction business processes, such as labour procurement and targeted risk monitoring. Attendees also learned how other construction companies are using digital solutions to improve productivity and project delivery.
Discover how construction companies are automating processes with a no code tool across their distributed workforce
Realize how The A14 IDT saved thousands on the targeted risk monitoring process alone

See how others are removing the inefficiencies endured with manual forms

Uncover quick tangible results from process automation, eliminate paper and gain better visibility on your task/process status
Watch the session here, or read the case study to learn how you too can leverage the power of process automation to digitize paper processes in your organization. Alternatively why not download a complimentary copy of the PEX Report 2020 report today, to learn more about how process automation can transform your organization!