As Ergo CEO, I was recently invited to speak to a group of Microsoft partners at a Microsoft UK event, "IP Acceleration Workshop", and share the story of how we started FlowForma, a new business that began life in Ergo. When you're asked to talk in front of an audience it prompts you to take stock and think about decisions you made in a way that's impossible amidst the day-to-day demands of running a business. It brought home to me how important innovation has become to Ergo's identity.
FlowForma isn't our first spinout. Fenergo was set up to target the financial services sector and launched at precisely the moment the economy tanked in 2008. But we persevered and I'm glad we did. The subsequent acquisition of the company by a US private equity company for €75m taught me that innovation will always be the engine of success and may even be helped by economic turbulence.
Solving Problems
Innovation is not important for its own sake, it's important for customers. Delivering something new in the tech sector usually means making someone's life easier, automating manual processes, providing companies with tools and solutions that will underpin strategies for competitive advantage.
We offered bespoke software development for many years but it moved up a gear as we began to work more closely with companies, often assuming the role of their IT department. When you get that close to customers the best thing you can do is listen. Listen to their problems, understand their business; get a fix on their strategic objectives. Once you have a handle on their goals and the barriers that get in the way of achieving them, you can provide a more valuable service as a problem-solver. You start to get those light bulb moments where you see an opportunity to dramatically improve processes and add value.
Developing Intellectual Property
A decade ago we found ourselves solving problems for financial services companies. Despite their differences there was a commonality around processes and we saw an opportunity to develop IP around a rules-based lending platform, a software solution that gradually evolved into a product. That was the start of Fenergo.
More recently, we built a business process management tool for our SharePoint customers, demonstrating how the Microsoft platform can be used as a powerful workflow hub as well as a document repository. Again, we productised our offering and called it FlowForma.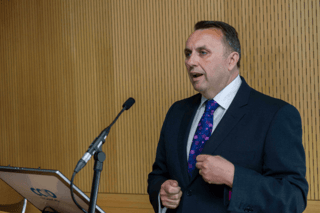 Fig 1: John Purdy presenting @ FlowForma Launch, May 2013.
It's important to stress that both launches were backed up with extensive market research. There were many board meetings to ensure proper governance was in place and that the business case was strong enough to justify a standalone entity.
The first spinout is always hardest, particularly as Fenergo launched at the cusp of recession. By the time we got to FlowForma we knew how to plan a go-to-market strategy that maximised the opportunity and mitigated risks.
Start-up Mentality
The consequence of these start-up successes is that innovation is now built into the DNA of Ergo. I often describe how the business is in constant start-up mode, changing and reinventing itself every few years to stay ahead in a notoriously fast-moving industry. This is a unique approach for a company that's over 20 years old, and it hasn't gone unnoticed.
Our clients like us because we always look for new ways to improve their businesses and first-time customers come our way because they know we can help them innovate to drive competitive advantage.
Fuelling all of this is our people, skilled engineers, account managers, project managers and planners who embed innovation into everything we do. When it comes to hiring new recruits, it becomes a lot easier to attract the top talent because they know they will be joining a technology firm like no other, an established company where there's a good chance that they could be in at the start of something new.
Read the FlowForma and Ergo IP Building Case Study.