Do your workflows come unstuck when it comes to a decision point that involves many people in the business?
These 'decision' processes may vary in their impact to the business/organization, from deciding on new potential consumer products, capturing decisions around due diligence or deciding on which potential patients should be accepted into clinical trials. How do you track key decisions in your business currently?
What is also very evident is that traditional forms and workflow solutions can't deal with this complexity and it's becoming more fundamental – the pace at which we work at is as fast as its ever been – decisions are expected quickly (millennials are demanding it!). Organizations also want to know they have the right people making the right decisions and, at a minimum, we're learning from good / bad decision trends.
We also need to protect ourselves – we've all heard the statement "I made the best decision at the time based on the information I had in front of me" – this is true for a lot of trusted employees but they still get caught with challenges around their decisions on an increasing basis. The difficulty is that some of these challenges come 12 months down the road when you're scrambling for proof through email threads. What if we had a solution that would manage this for us?
So there's a lot to solve – here at FlowForma we see this as our big goal (Collaborative Decision Enablement is our big wordy title for it!!). Initially, we see this as supporting decision making in a very intuitive and collaborative fashion while ensuring appropriate measures of security (electronic signatures, encrypting private votes, 'locking in' relevant information sources at decision points).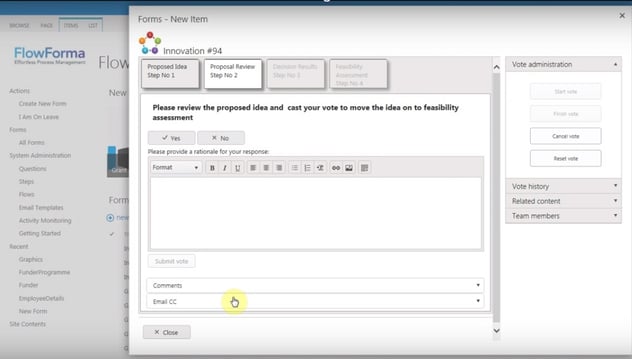 Fig1: Voting Step in FlowForma's Collaboration Panel


In the near future, we'll be digging into Decision Learning, integrating with reporting tools like Power BI to really surface up decision information. Also, looking at ways of capturing unstructured information that forms part of the decision process. These are fundamental to the challenge.
We're getting ready for it. Are you?