Governance, compliance, audit, regulations, etc, etc. A once loose working world of ambiguity and shrugged shoulders, is now ever increasingly under the spotlight of governing bodies and the ombudsman, be they internal or external.
I'll give you a scenario which I'm sure you will recognize:
Person A: "Where are my materials?"
Person B: "I don't know – but I'm sure they were ordered"
Person A: "But I told you to order them"
Person B: "You didn't tell me"
This is not acceptable anymore. Along with timelines, responsibility for one's actions is very important in the day-to-day operation of a business. Whether you are providing services to the public or internally to your business, you should be accountable for your work.
Empowering Responsibility With e-Signatures
A simple method to encourage responsibility, that has been operating for years, is the 'Sign off'. We all do it when accepting deliveries, when ordering items, committing to a mortgage, etc. Your signature means you have taken on that responsibility and agree to the conditions. This is why companies are increasingly using the signature method internally, to validate the individuals involved and place the onus on them for their actions.
What is the best way to achieve this if you wish to reduce paperwork but still need signatures? Quite straight forward – do what many of our FlowForma customers are doing. Just use the 'Signature' field in a digital form. It allows the user to physically sign the form using a touch screen. The signature can be used throughout the process for documents or just as a physical signature stored digitally.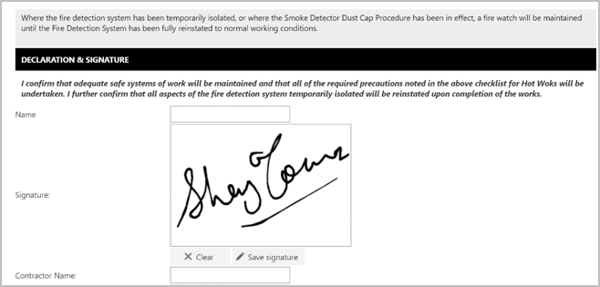 Fig. 1: FlowForma Compliance e-Signature Feature
e-Signatures are also available, which is the secure double validation of login credentials to confirm the user's identity. With the FlowForma Compliance Features, the default signature is designed for 21 CFR Part 11 compliance and prompts for role of signatory, the purpose for signing, as well as the password of the user. Such examples are commonly found in healthcare and pharma/life sciences industries for historical recording.
The e-Signature capabilities of FlowForma Compliance enable organizations to:


design and build fully certified processes
meet regulatory requirements
capture data
provide audit histories
Digitally Transform
So, there's no excuse to not only validate the activities of users through digital means but also to increase their commitment to their actions. The need for the use of the pen and paper to validate an individual's signature is greatly reducing, it's just an e-sign of the times!
Sounds good doesn't it? So why not try the FlowForma Process Automation tool for yourself - free for 14 days and experience how your organization can benefit from e-signatures.