Great to be part of the Forrester Webinar on low-code business process platforms last week.
The topic ("Waking Up the Sleepy World of BPM with a Low-Code Approach") drove a strong interest – great to see so many attendees on the call – thanks for your participation and interaction – for those of you who missed it and would like to view, please naviagate 'Webinar Videos' in our Video Library to access the recording.

Also, big thank you out to Olivia Bushe, FlowForma CMO and our moderator for the day who kept us all in check and of course, John Rymer – Vice President & Principal Analyst from Forrester, who provided excellent insight into the need for low-code BPM platforms today to address increasing demands for instant business apps.
Key Points Summarised
We covered a wide range of discussion points but below are some of the highlights:
How far can you go with these low-code BPM Platforms? We described how far FlowForma BPM goes with these process problems to provide context. We start with everyday processes such as IT, HR and Finance processes – these can be easily and quickly addressed - you only obtain good ROI by ensuring you are tackling quite a few of these within the business.
With dark processes, we address business process problems that are very specific to a business but are sitting within spreadsheets, local databases, emails etc. and there is poor visibility of the work involved by senior management. This is a real sweet spot for platforms such as FlowForma BPM as we can show real value and instant ROI by surfacing these up into a centrally controlled system, with speed to delivering these being essential.


Finally, we discussed Collaborative Decision processes whereby many people are involved in a voting process and we address this (e.g. tender awards/ new product decisions/ clinical trials etc.). The more you move up the ladder, the more ROI you'll achieve with these platforms for your business.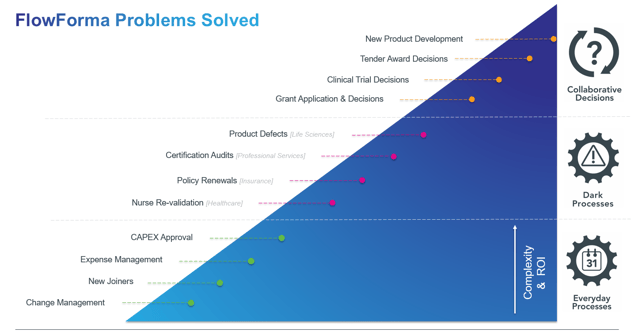 Who do we need in our business?
The need to leverage 'Citizen Developers' within your business to solve these problems again was a recurring theme – John elaborated how to look at this as a way to extend your labour pool – highly skilled software developers are increasingly becoming harder to find – the argument being, lets leverage resources we can access now and start having an impact with these platforms now.
Can these platforms scale?
This is a question we get asked constantly – John has a great piece on this and talked around the 5 key elements that make these platforms scalable (you'll need to watch the webinar to find out more :) ) - but the resounding answer is yes – these platforms can scale – you just need to look at it in a different way.
Thanks again to participants and our friends @ Forrester.