Connect With Your Hosts: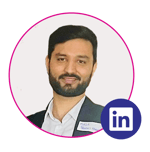 Meet Mirza Mehdi, Product Manager at FlowForma.
Mirza has a passion for all things process automation and is your go-to maestro for orchestrating operational excellence. He is dedicated to ensuring that the FlowForma product experience is the best in the market.

Darragh Allen is a Presale Consultant at FlowForma.
Our expert in automation navigation, Darragh is your trusted guide for all things digital transformation.