How to Import the Power BI Content Packs?

1. Fill out the form above, which will download FlowForma BPM Power BI Content Pack, and extract the contents to a location of your choice.
2. Download Power BI Desktop from https://powerbi.microsoft.com/en-us/downloads/
3. After installing the Power BI Desktop, right click and open the .pbit file from the downloaded location. This should open the default source and default complied reports pointing with FlowForma default data like the below screenshot.
Note: The reports prompts to enter credentials to access the default site to refresh the source. This is because in current site, the report is pointing to is a default trial/demo site which is an on-premise trial site of FlowForma.
You can choose to ignore, which results in error and later change the data source in the following steps as outlined.
For Office 365 OData Sources, you can choose Anonymous access.
4. Next, change the data source with the required OData source link obtained from FlowForma settings of the site required for reporting. Click on Edit Queries > Data Source Settings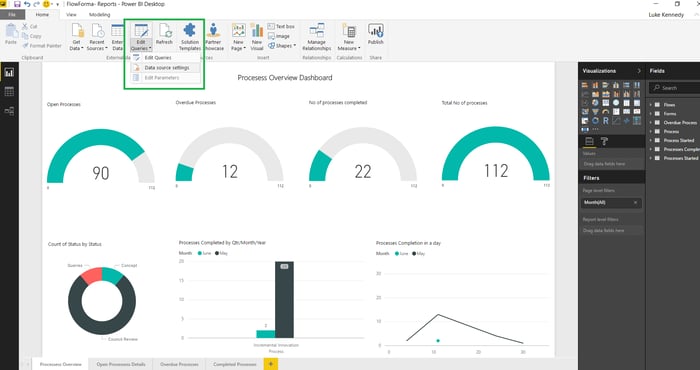 5. From the below screenshot, clear any existing connections from Global Permissions and select the option Data Sources in current File to change the data source.
6. Select Data Sources in Current file to change the data source as per below screenshot with the required OData Link obtained from the FlowForma site.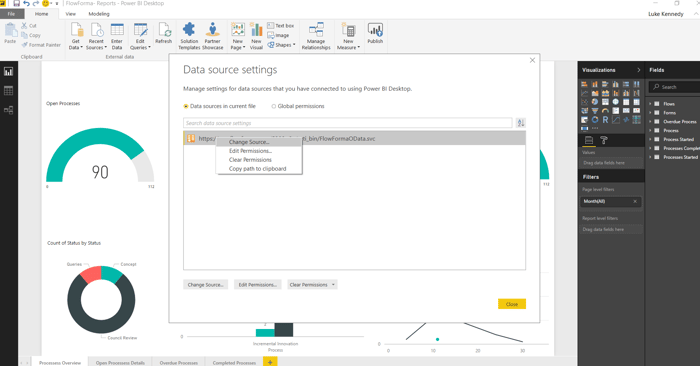 7. After changing the data source, click on Edit Permissions accordingly and change the permissions based on the OData Source (by default it's Anonymous). Apply the change if promoted and hit refresh to pull the data.
Wait for few minutes, refresh at least twice in all pages to ensure all the data cache are released and new data is fetched.


Troubleshooting
For issues during changing data source or latest data not getting reflected, Please follow below steps.
1. If an error is thrown while connecting to OData sources, please ensure the connecting user is added to the FlowForma Admin Permission group. Add the user and re-try.
2. Open Power BI Desktop, open File > Options and Settings and click on Options. In the next screen as per screenshot below, clear the Data Load Cache and Go to Data Load in the same left had pane untick "Allow data preview to download data in the background data" and untick Enable Parallel Loading of Table.


3. Close and open the Power BI and refresh data sources again.