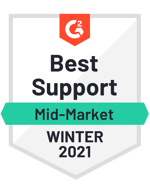 "The FlowForma Customer Support Portal has really transformed the way we communicate and support our customers today. Not only can FlowForma customers create and update their support tickets from anywhere on any device, it also provides online access to the latest product updates and learning resources, alongside the ability to interact with the wider FlowForma Process Automation community.
The feedback from customers has been very positive, we are focused on welcoming new members and will continue to add more and more content to the platform every day."
See the benefits for yourself, access our customer support portal here!