Source: FlowForma
FlowForma®, the leading provider of Process Automation tools for Microsoft Office 365®, has been named a 'High Performer' in the BPM (Business Process Management) software category in the G² Crowd's Autumn 2021 Grid® Report, due to its award-winning FlowForma Process Automation tool.
G² Crowd is the largest and most trusted software marketplace, helping 5.5 million people every month make smarter software decisions based on authentic peer reviews. G² Crowd helps potential B2B buyers make informed purchasing decisions, through vendor validated customer success content such as customer testimonials, success stories, case studies, and customer videos.
Rapid ROI
From G2's Fall report, they have revealed that we give our customers significantly faster ROI when compared to our competitors. On average, FlowForma users see ROI results in 12 months. Why not try for yourself with a free 14-day free trial!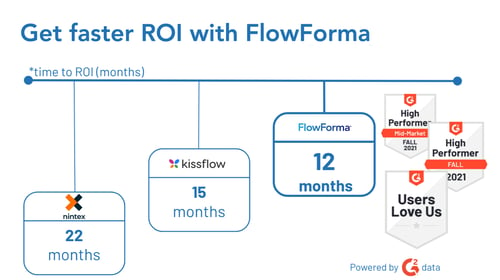 High Performer
G² Crowd evaluated all the potential BPM (Business Process Management) software companies on its platform in its 2021 Autumn Grid® Report and FlowForma earned the 'High Performer' award in the category.

The award of 'High Performer' is reserved for the highest customer-rated products on G² Crowd. This means that FlowForma is one of the highest-rated BPM solutions based on reviews written by our users!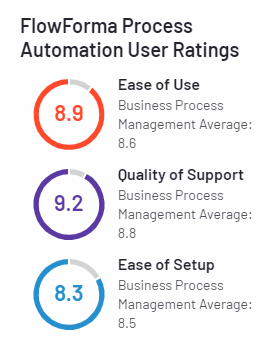 *FlowForma Process Automation Average User Ratings - October 2021*
FlowForma currently ranks 4.4 out of 5 stars on G² Crowd, placing us high at the top of the list of available BPM software providers. We are delighted to have been awarded this title from G² Crowd and are excited to see the awards to come.
Try FlowForma Process Automation For Yourself
To learn more about FlowForma Process Automation and its successful implementation by customers, why not book a call with one of our experts and learn how you can empower your business with no code process automation today!
Are You A FlowForma Customer? Help Us Out By Leaving Us A Review
Are you a FlowForma customer? Help us help you by taking a couple of minutes to leave us a review on G² Crowd!