In his own words...
Read on below for the full transcript of the podcast and additional screenshots.
Paul Stone
Hello, I'm Paul from FlowForma and I would like to talk to you about the paperless revolution that is hitting construction today and how the move away from paper shifted construction into the fast lane, increased demands from clients are forcing construction companies to change the way that they execute and record progress on projects to the increased adoption of digital technology.

FlowForma it as a process automation platform built for business people. It allows them to quickly make digital versions of paper based processes, any process, without depending on IT resources. We focus on making the system as easy to adopt as possible, right from the very start, and now have over 200,000 users worldwide. We've grown rapidly over recent years starting at energy and engineering, we now focus 60% of our efforts on construction. When we looked into construction we found that the industry was very dependent on paper. Needless to say sheets of paper are not very reliable and can easily end up lost in the pocket, disrupting the smooth execution of projects. Construction needs to move away from paper and embrace new technology.
Digital Process Automation powered by FlowForma allows you to digitize processes quickly, gain rapid adoption by the workforce and get an early return on investment. That's so important when working on projects that have a fixed timescale. The sooner you start, the more you save. Digital processes have many benefits, they ensure that data is captured accurately, that the right sources follow the right paths to get the job done, and that process performance is measured so that you can learn over time what works best in the field. Delays can be identified early so that the impact is minimized on the project.
FlowForma has a broad client base, with our largest clients now in civil and commercial construction sector. We work with Balfour Beatty on projects including The A14 and the M4, CVB joint venture on Tideway East, NG Bailey on commercial projects, and construction industry suppliers including Aon Insurance and Grafton Group.
We started life in Ireland, but the demand for Process Automation is common throughout the world. Our global reach stretches from New Zealand to the west coast of America. One of our largest clients is in Australia. Where Inland Rail are using FlowForma as the automation platform for $10 billion rail project. So why have so many construction companies selected FlowForma? In an industry that is slow to change, adoption is the biggest challenge. We make the whole process as easy as possible for everyone involved, we offer a try before you buy approach, we build a working proof of concept where our customers can try out the software before they decide to purchase.
I'd like to tell you about The A14 journey with FlowForma, how they FlowForma, how they achieve success and the challenges that they faced along the way. Change is always difficult at the grassroots, but there are strategies that FlowForma enables that greatly reduce the risk. The A14 project is a joint venture between Balfour Beatty, Costin and Skanska. It has a 1.5 billion pound project from Highways England, and it's due for completion in 2020. It was targeted by highways to reduce costs by fostering collaboration through adopting common work processes across all of the JV partners. To achieve that goal, the IT manager realized that they would need an automation platform that could digitize a lot of processes quickly. That would allow processes to be tweaked to ensure rapid adoption by the workforce and would remove paper processes capturing the data previously recorded on paper in a database for further analysis. The main reason FlowForma was chosen was it had versatility to work with any process, or the ability to work seamlessly across desktop and mobile devices, both on and offline and had the ability to try before you buy. This last point was so important as it showed The A14 that FlowForma could deliver on their promises of ease of use. In terms of benefits, The A14 save £77,000 on one digital process alone, targeted risk monitoring. TRM is a complex process, but they did not stop there. They went on to digitize 74 more processes over 18 months. Each process took between one day and two weeks to digitize depending on the complexity.
I would like to show you now some process examples. There's nothing like seeing some screenshots to give you a better understanding of what a digital process is and what it looks like to the end user. For each example, I'll discuss the benefits gained and the challenges faced moving from paper to digital.
The first process on my list is materials requisition. A common process that applies to almost any project. When you look at the process map looks very complex, lots of alternative pathways, lots of resources of all the different stages and this is just the process without the data.
When you look at this process in FlowForma it's much simpler. We design our system to present a simple, friendly view of the process to the business user. Between you and me, it's pretty good. We won industry awards and our clients love it. The simple interface greatly improves adoption of digital processes in the workplace.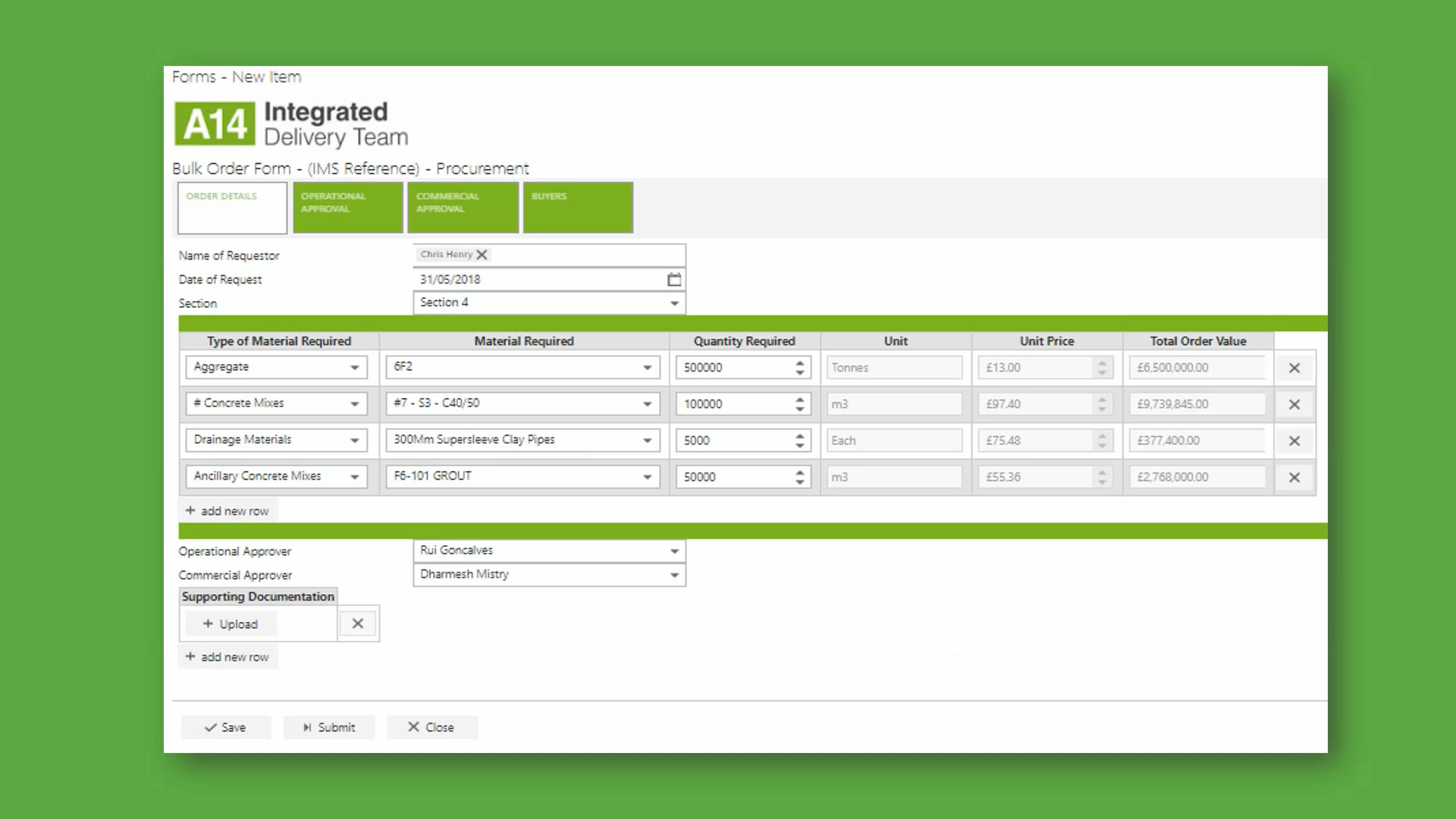 The next process is targeted risk monitoring. This process involves carrying out field inspections that need to be used on mobile devices, FlowForma's mobile app for Apple and Android let people use the digital processes in the same way as a desktop, you work with the same familiar user interface.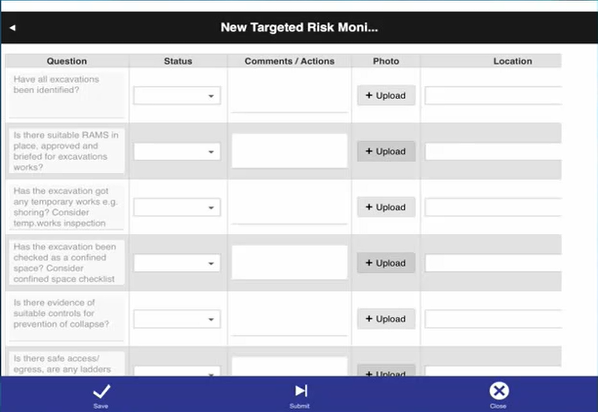 The next process is permit to dig. It's another common process in construction, but it was particularly relevant to The A14 due to the nature of the site. This was one of the first processes that they digitized. It took about three months to get this one adopted due to the sheer number of users. But the end result was a landmark digital process that saved millions on a project as large as the A14.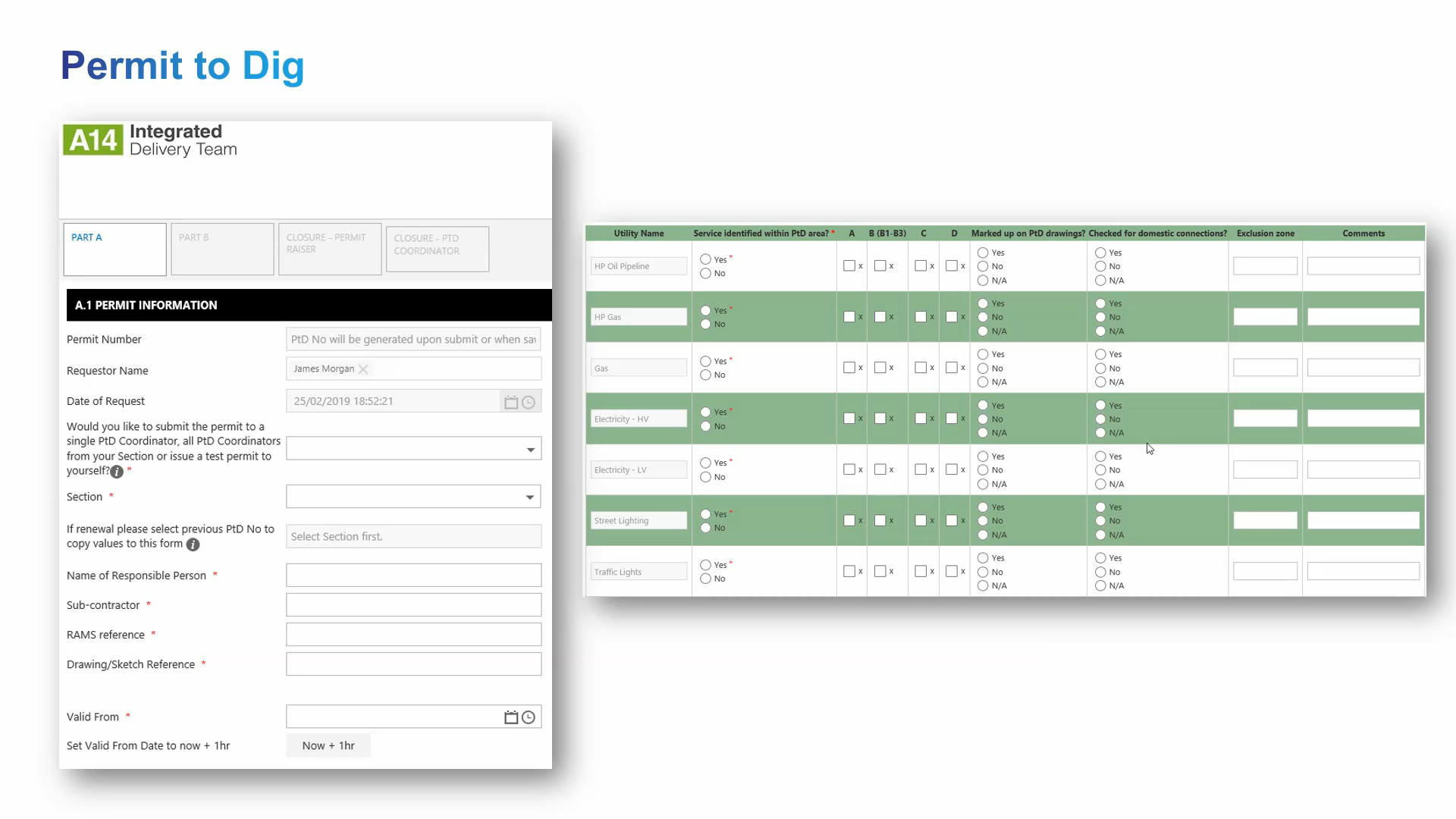 The great spin off is that you capture up to the minute data on every process. You can then show this on a dashboard to give you a rack analysis, you can aggregate the data to show resource usage and you can drill into the processes to identify bottlenecks, find out why they're occurring, and apply fixes to remove them.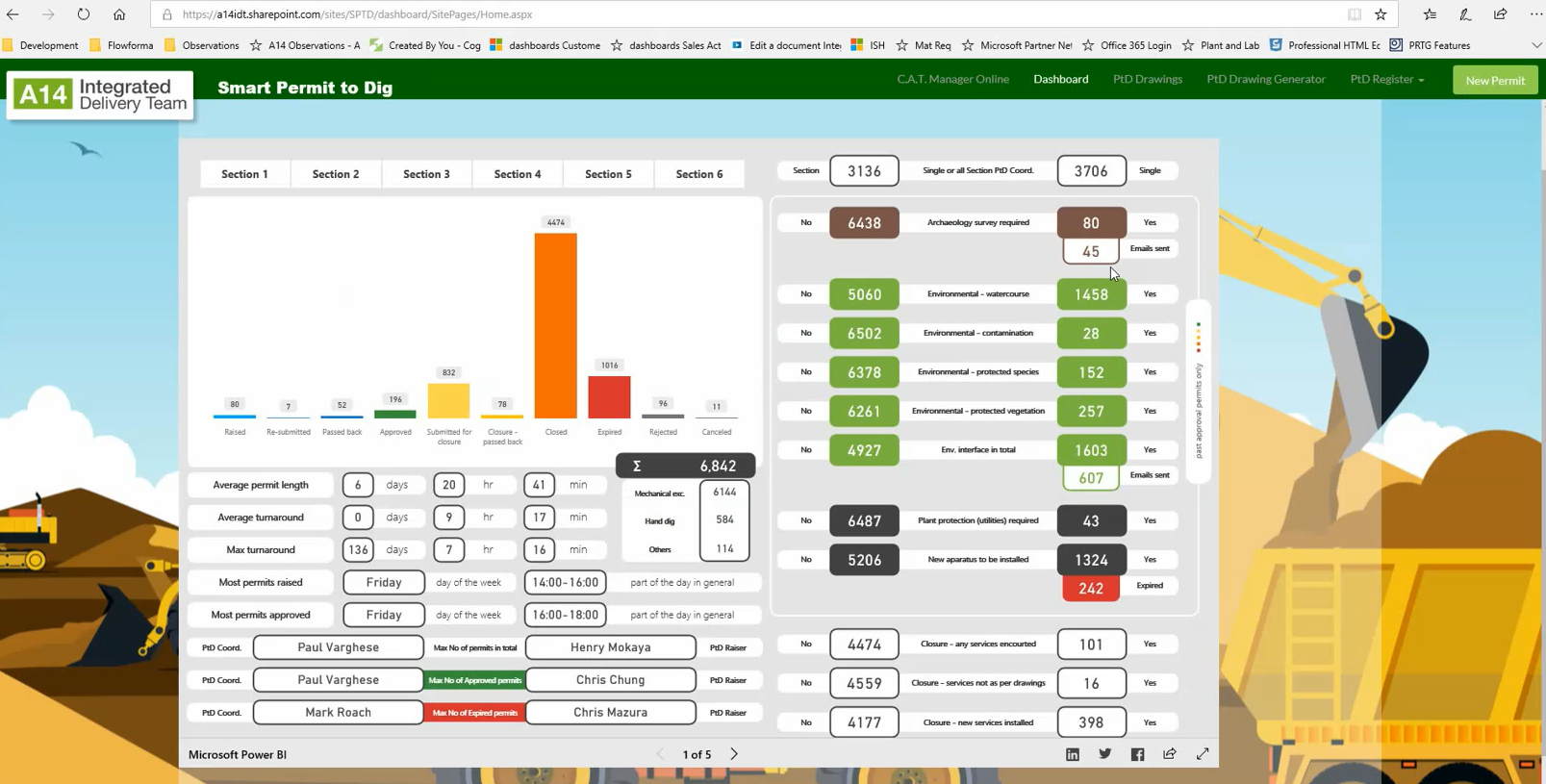 You can visit the FlowForma website to see more information on our product with lots of case studies and success stories from other companies. And don't forget that offer of a free trial of our software so that you too can experience FlowForma firsthand, we'll happily build you a proof of concept that will show you how FlowForma can save you money in your business.