∗ This guest blog was written by Chris Henry, Lead Consultant, Ishango Limited.
What is FlowForma Process Automation? In a nutshell, it's a no code digital process automation app which is installed on top of Microsoft SharePoint, enabling business users to digitize processes and go paper-free. Its mobile app for use on iOS and Android devices, empowers users to utilize their processes when out of the office.

But what does that really mean? In this blog I'll break it down and in future blogs I will go into the detail of FlowForma Process Automation use cases and the benefits realized from them.
100% No Code Process Automation
Firstly, I will look at the no code aspect. There's plenty of software providers in the marketplace who shout from the rooftops about their no code solutions, but when you start using the products, you realize that no code only scratches the surface. When FlowForma say no code, they mean it. You can get almost 100% functionality out of the product without any coding required.
To give you an idea of how genuine this no code claim is, I'll tell you I don't come from a technical background and was in fact a health and safety adviser for several years, before getting an opportunity to work with the FlowForma Process Automation tool. This tool allows you to write all your data to SharePoint lists, using a drop-down to map questions to list columns without a snippet of code necessary!
Fig. 1: New Work and Travel Timesheet Process
With that being said, if you do know how to write JavaScript and HTML then you can actually create your own questions and rules. In over two years since I started using the FlowForma Process Automation tool, I have only known one custom question be created and that was more to test the theory rather than anything else.
Digital Processes – The Benefits
This is where the tool really excels, with a powerful workflow engine working in the background to enable users to get huge benefits from digitizing their processes. For me, the process digitization can be split into two categories; creating the workflow and capturing the data, in this blog I will concentrate on the workflow aspect of the product and will delve deeper into data in the next blog.

Its's a powerful tool which allows you to do such things as:


send automatic emails

generate documents

allow process approvals

hide / show questions depending on previous answers
You can use the workflows to create all sorts of processes which are user friendly, capture pertinent information and ensure people are all using the most up to date process. There will be savings from this, you will remove process blockers, realize process efficiencies, and you will avoid mountains of paperwork all over the workplace.
Our journey with the FlowForma Process Automation tool really began with utilizing the workflows, we got huge benefits very quickly after deploying the software. Our first 'Process' enabled the project operational team to recruit blue collar workers in a controlled and transparent manner.
We then started looking at various project inspections. From my time as a health and safety adviser, I had gone through the process of visiting site, handwriting notes and then coming back into the office to type into an awkward template and then email out. Our 'Processes' automatically generated a PDF with all pertinent inspection information, including photos. This was then emailed out to relevant people depending on either the type of inspection or area being inspected. With the FlowForma Process Automation tool, this can all be done automatically when out at site, so by the time I arrive back at the office, actions have already been emailed out, now that's efficiency!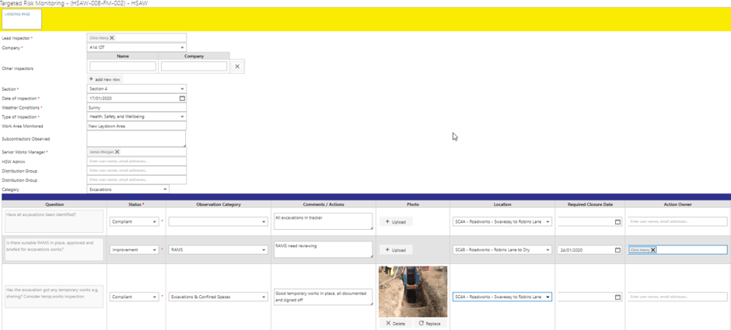 Fig 2: Targeted Risk Monitoring Process
Conclusion
So that's all for now, I have scratched the surface of the FlowForma Process Automation tool and told you how it can benefit your business. Future blogs will focus more on data, specific use cases, some background to the initial problem, how FlowForma Process Automation fixed the problem and what benefits and efficiencies were realized.
Sound good right? So why not try the FlowForma Process Automation tool for yourself - free for 30 days and experience how your organization can go paperless too!