The industry experts Forrester Research Inc. have recently released their Q3 2022 Digital Process Automation Survey Results, in a report that highlights how organizations are prioritizing automation to achieve their business goals in 2023.
This report includes insights from personnel across all industries with information on how to best position process optimization and automation within your organization.
I've taken the liberty to summarize some of the key discussion points from their latest report below.
Process Automation Supports Strategic Business Objectives
Since COVID-19 rocked the entire globe, the more automated organizations adapted, the quicker and more effective they became. No one can predict the next challenge or opportunity that businesses will face. However, organizations across all industries are now prioritizing process optimization and automation to drive business objectives, and an adaptable strategy will be vital for success.
Automation Is Still A Mountain To Climb For Some Organizations
While business process automation isn't a new concept, the immediate challenge is much different than previous automation efforts. Climbing this digitization mountain will require businesses to overcome three main challenges.
Challenge 1: Pervasive Automation Is Far More Complex Than Siloed Automation
Forrester's survey results indicate that 83% of organizations plan to reinvent and automate their business processes as part of a wider digital business strategy. To address this challenge, organizations must:


Address cross-organizational boundary challenges

Recognize organizational technology silos

Create an automation fabric strategy
Challenge 2: Processes Are Unorganized
Another key issue when implementing a widescale process automation strategy is that businesses are already struggling with an automation backlog. Processes are unorganized and run in myriad places such as packaged applications, homegrown applications, DPA systems, robotic process automation (RPA), and low-code/no code platforms. The challenges here are:


Most of these technology silos are deeply embedded in business operations and aren't going anywhere anytime soon.

As organizations embrace end-to-end automation, complex processes will cross these technology silos.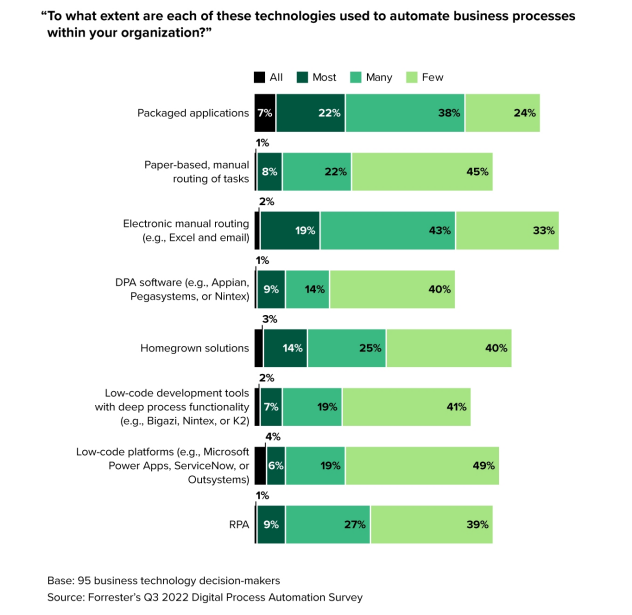 Challenge 3: Spreadsheets And Paper Remain Everywhere Within Businesses
Processes running across numerous, disparate, and legacy systems create challenges to a collective and functional automation strategy. In particular, processes running in spreadsheets, email, and with paper dependencies are increasingly problematic. These processes don't run on managed platforms where they can integrate into end-to-end automated processes. Forrester's 2022 DPA survey indicates that almost a third (31%) of organizations still have many or most of their processes running with dependencies on paper.
Process Optimization Is Critical To Automation
We associate process optimization with process automation, however they're actually two separate exercises but have similar end goals. Process optimization efforts focus on the analysis and potential re-engineering of organizational processes. Some examples of the tools that support process optimization are: process mining, task mining, process modeling, and documentation. Process optimization efforts increasingly lead to process automation — but not always. Jumping straight to automation without the due diligence of an optimization effort can lead to substandard results. As a result, optimization of business processes is critical.
Process Optimization Must Become Everyone's Job
With a massive process automation imperative now facing most — if not all organizations, one key challenge is leveraging and extending process optimization skills. Forrester's latest survey data shows that 32% of respondents said they already have a small team in place that is supported by all departments of the overall business.
This demonstrates an increased autonomy for the business to drive process optimization, which is critical to scaling business process automation and optimization efforts. Encouragingly, 80% of organizations surveyed expect businesspeople to participate in process optimization and automation efforts in their business departments.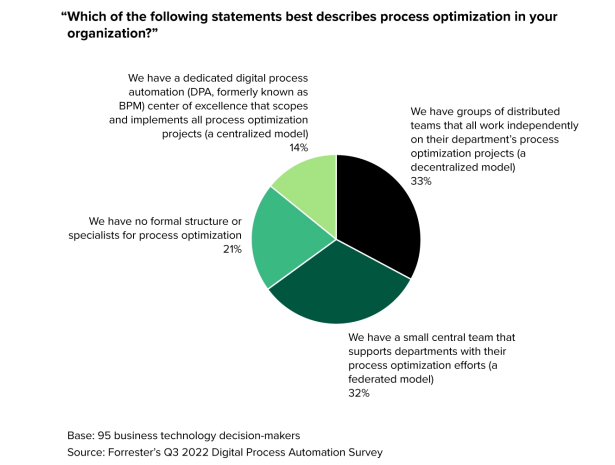 To learn more about digitizing your business processes, arrange a call with one of our process experts or request a personalized demo of the FlowForma Process Automation tool.