From regularly speaking with companies in the energy sector, I understand their challenges and motivations when it comes to digitizing their business processes, to support their digital transformation agenda.
I was lucky to attend the Future Oil & Gas Conference hosted in Aberdeen back in June, where oil & gas companies came together to learn about the latest disruptive technologies and the power of the digital revolution. From networking at this event and listening to the amazing speakers, I was fascinated by this sectors shift in focus and drive for all things digital, among some interesting challenges.
A Shift In Focus
A highlight of the conference for me, was listening to an excellent presentation by Luq Niazi, Global Managing Director of IBM Chemicals and Petroleum Industries that highlighted two key elements - the huge structural shift oil & gas companies must adopt in their future business model and also the growth opportunities through the marginal increases in oil and gas prices. Luq focused his presentation on the following disruptions:


Growth disruption:
With an increase in oil price realizations, growth and margins will return in 2018 and beyond


Talent disruption:
Substantial talent departure from the industry – means a challenge to fill the knowledge gap and future workers must have a 'digital skill set'


Company disruption:
Increased M&A activity and growing consolidation giving rise to new business models


Capital disruption:


A significant rise in capital expenditure for alternative energy
Digital Transformation Now
All of the above growth imperatives, highlighted for me, the importance of adopting a digital transformation strategy in the oil & gas industry, which is behind the curve compared to other industries.
There are a multitude of different interpretations and definitions around digital transformation, but for me it's about providing the digital capabilities for oil & gas companies to improve their processes, products, and resources, which in turn will result in:


greater efficiency

enhanced customer value

managed risk

new monetary opportunities
A proven solution to drive digital transformation for organizations within this sector is FlowForma Process Automation - providing transparency, productivity and flexibility across the entirety of the business.
Don't Take My Word For It - Listen To Our Podcast!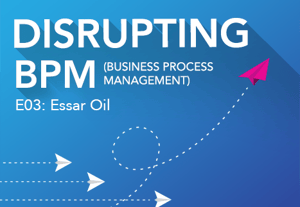 I'm really proud that our FlowForma Process Automation tool has helped Essar Oil, the second largest oil producer in the UK, move away from paper processes and strive towards becoming a paperless organization (listen to our podcast featuring Essar Oil).
With a diversified business model through a fast-growing retail forecourts business, Essar wanted to automate key paper-based processes such as:

- civil department work requests
- waste transferal process
- health referral process
- new employee arrival

As you'll hear in this podcast, the outcomes Essar Oil have achieved in addition to digitizing the above paper based processes are really impressive:


improved governance with full trace-ability of their processes
better reporting
ability to further identify improvements in their processes
overall assisting in Essar Oil's digital transformation program
Interested in learning more about how FlowForma Process Automation can help you and your business? Take a free 14 day trial today and see for yourself the power of process automation!