In recent times, a trend has emerged within IT circles, coined by Gartner industry analysts, as Bimodal IT. In summary, this approach sees IT systems delivered to the business in two modes of operation.
Mode 1:
The first mode is essentially your critical line-of-business systems which emphasise scalability, efficiency and accuracy and are managed rigorously through tight change management controls and traditional 'waterfall' lifecycle delivery methodologies.
Mode 2:
The second mode is addressing emerging business needs or implementing newer concepts into existing business units to revitalise their approach. The requirements are not concrete but there is a strong understanding of the business outcome. This mode is very agile in its approach and delivery.
You also find that cloud services is the new friend of mode 2, as they can turn on and ramp up quickly in response to these new rapid fire projects.
Mode 2 projects may also evolve into mode 1 projects over time, which is fine in theory, but will then follow a new set of rules and most likely a new technology solution in practice. The view is, to succeed as an efficient IT business service, both modes are necessary and need to run in tandem.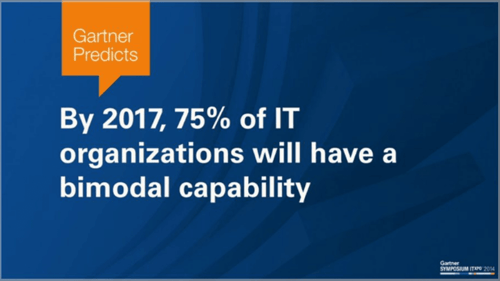 The Scenario
So how does this Bimodal IT approach apply to business process improvement projects? Let me play out a scenario.
Jane arrives from Marketing and is struggling with how the company manages new product ideas and concepts. They've seen really good ideas for products land at their desks, poorly thought out.
What are the reasons? A business case document is in place, but it is never accurately completed. Innovation review meetings go through business cases in an informal fashion. Too many innovations projects move ahead, but never finish. They're not really sure what they spend per project, looking at all these different concepts but overall they spend in the multiples of millions. No one is really too worried in senior management, as all is going really well with the current stable of products and they are spending on R&D for the future, so what's the problem?
Jane believes they can do better. This is a prime opportunity for a mode 2 project. The business outcome is very clear - they need a business system in place to manage and report on their R&D Innovation Lifecycle.
They need to bring the relevant disparate divisions into a workshop and start teasing through the process:
What data needs to be captured at what steps?

Who are the decision makers?

How many gates?

What is the quantifiable criteria?

What do each of the divisions expect to see along the way?
Now, build a prototype and show back, keep all engaged, receive feedback and refine prototype and so on, and so on, until the business outcome is achieved and the business solution is live.
In reality, we've heard different flavours of this prototyping concept before. The key difference in achieving success is ensuring you have the right business process tool in place to support this approach and achieve the relevant business outcome in a timely fashion so as not to lose momentum.
The Enabler
At FlowForma, this is the promise we are delivering to our customers on a daily basis. In summary, FlowForma is a business process enablement tool, empowering process analysts to build and deliver these projects - this ensures delivery is fast and on point. We are leveraging the world's leading collaboration platform - Microsoft Office 365 - to help us achieve this goal.