Source: FlowForma
FlowForma®, the leading provider of Process Automation tools for Microsoft Office 365®, has been recognized by MYTECHMAG as a 'Top 10 Construction Tech Solution Providers of 2021/22'. MYTECHMAG is an all-in-one technology magazine that presents a broad view on technology utilization across the globe.
---
In 2022 we'll see more and more construction companies focusing on Digital Process Automation, in a pursuit to operate as efficiently as possible, keep overheads low and be ultracompetitive. FlowForma Process Automation is trusted by construction firms and multi-million infrastructure projects to make workflows less IT-centric, drive efficiency and provide a single source of truth.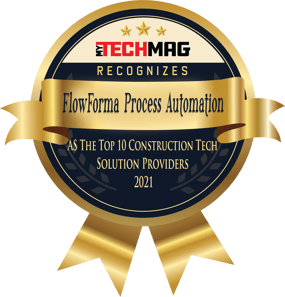 Agile automation is the new norm, and businesspeople are the superpower to ensure rapid and agile automation. FlowForma is leading the way, empowering construction firms to automate business processes at speed. FlowForma's self-service process automation tool is 100% no code, meaning it's highly intuitive. With a few days of training, businesspeople can digitize processes in-house, with little support from IT. The FlowForma product is celebrated and recommended by the construction community, Forrester, G2, Microsoft and more...
"We are pleased to be included inside of MYTECHMAG's 'Top 10 Construction Tech Solution Providers of 2021/22'. Here at FlowForma
we believe the benefits of process automation are obvious, from accelerating digital transformation to increasing productivity and improving customer experiences. No IT team is large enough to keep up with the demand for digitization, which is why No Code Process Automation is trending into 2022 and beyond." commented Olivia Bushe, Chief Executive Officer, FlowForma.

Access the magazine here to read the interview in full, see Olivia's process predictions for construction in 2022, and how FlowForma customers are reaping massive savings from digitizing!