Like the raw materials it produces, the energy, oil and gas industry is under an immense amount of pressure. Energy demand globally is incredibly high – in 2023, world oil demand is expected to climb by 2 mb/d (million barrels per day) to a record 101.9 mb/d. To put this into perspective, world oil demand was 91 mb/d in 2014, and just 21.4 mb/d in 1960. The rate of demand growth has been – to put it lightly – exponential.
On top of this, the raw energy sector is now in greater competition with leaner energy sources. Consumers, who want greener solutions to their energy needs, are looking for alternatives. And the consumers who do opt for oil and gas want lean and operationally efficient energy providers. As a result, more energy, oil and gas companies are looking to digitalize their processes.
Here's the top ten trends driving digitalization in energy, oil and gas:
1. A Lack of Regulation
Regulation in the oil and gas industry remains relatively low, although there is a fledging – but eagle eye – focus on environmental issues. According to Deloitte, the renewable energy industry is looking at soaring demand thanks in part to attractive, long-term incentives. Domestic manufacturing, decarbonized fuel and energy equity will push the sector towards faster growth in 2024. When it comes to extracting natural resources like oil and gas, energy companies are under pressure to meet the regulatory standards of environmental bodies.
To do this, many companies are turning to process automation, and other forms of digitalization in energy, oil and gas. Digital solutions offer a way forward. These tools are designed to streamline the regulatory compliance process, with prepopulated forms, which help energy, oil and gas businesses to easily comply. Data entry with process automation becomes more accurate, and significantly reduces the risk of human error while facilitating faster, more efficient compliance.
2. Health and Safety
For an industry built on numerous hazardous operations, including working at very high heights, handling heavy equipment, and operating in confined spaces, health and safety is vital. Like the construction sector, which is naturally hazardous, oil, gas, and energy executives are turning towards digitalization. Statistics from the Census of Fatal Occupational Injuries reported that 489 oil and gas extraction workers were killed on the job between 2013 and 2017. And according to the United States Bureau of Labor Statistics the number of fatalities fell from 130 in 2018 to 78 in 2020. We believe digitalization has a big role to play in reducing the safety risks in this industry and others like it.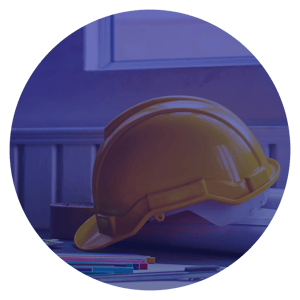 Workflow automation tools are helping businesses meet complex safety protocols. Pre-built and compliant workflows guide workers through reporting processes, and on-the-go functionality (e.g., mobile-first, offline) make it easy for employees to flag urgent safety issues.
A good example is tracking jobsite hazards. Whilst using manual methods, it's difficult for reports to be timely – the process usually involves obtaining forms and filing them in the office. With FlowForma Process Automation, however, workers can access the platform at any place, and create a report there and then.
3. Environmental Impact Management
Environmental impact management is a big topic in the energy, oil and gas industry, as it plays a crucial role in preventing eco-disasters and ensuring sustainable operations. Major companies have recognized the need for cleaner energy have been investing more and more in renewable energy. For example, BP plans to increase its low carbon investment tenfold by 2030.
Companies in this sector must adhere to stringent regulations and compliance measures, which include obtaining permits, conducting regular inspections, and following established protocols.
By implementing digitalization in energy, oil and gas, along with a strategy behind it, businesses can minimize their ecological footprint, reduce the risk of spills and leaks, and demonstrate a commitment to responsible resource extraction. These measures not only protect the environment and local communities but also contribute to the industry's long-term viability as a responsible corporate citizen.
4. The Value of Data
Data is everything these days. In energy, oil and gas, correctly using digital data is invaluable. It saves money, firstly. Business executives, who gain transparency over their processes, and can perform a detailed audit trail for a process or project, are suddenly "in the know". This empowers decision makers and lets them make more informed choices – refining processes where necessary, identifying bottlenecks, and giving greater accountability to the individuals directly involved in each task.
How does process automation help? Well, it empowers decision-makers to streamline processes, whilst also offering a single source of truth. McKinsey research points to a 20% reduction in capital expenditures with effective use of digital solutions, and a big part of this cost-saving comes down to the transparency and accuracy of data. A process automation platform, which is fully transparent, offers contributors access to the same data, and also provides that data in real-time. Therefore, project data is kept up to date, unlike in legacy systems where there is often a data lag.
5. Connecting The Workforce
In 2023, employees are spread over large geographical areas, crossing cities, countries, and even continents. The need to connect people has never been greater. In the energy, oil and gas sector, executives are desperate to connect teams, and reestablish a sense of unity. Smooth collaboration also means smooth project lifecycles and timely deliveries, and the opportunity for stakeholders to have their say.
For a sector divided – split across remote locations, rigs, sites, and offices – mobile and desktop process automation is a way to repair broken communication lines. To connect teams, stakeholders, and on-site workers, with a shared one-pane-view solution, equipped with project data that updates in real-time.
6. Recoup of Cost
Digitalization in oil and gas offers a significant cost benefit to the organizations that need it. Process automation might not yield apparent benefits from the outset, making many energy, oil and gas businesses reluctant to invest in them. However, the right solutions, those that are designed for a specific industry (such as energy, oil and gas) present a more affordable alternative that recoups costs quickly – in as little as six weeks – and justifies the investment for employers. Energy, oil and gas industry leaders anticipate that digital applications will deliver annual cost savings of at least $130 billion from 2023 to 2030.
For businesses seeking to reduce operational costs, digital solutions such as process automation can be a lifeline. Automated workflows, and prepopulated data fields, guide employees through multiple process steps, and ensure that data is more accurate and compliant throughout. The right process automation tool also allows organizations to flexibly and accurately measure their savings – a valuable byproduct of going digital.
7. Agility
In a changing world, and fluctuating economic climate, it's important for businesses to adapt. Dealing with change is often a challenge for organizations that have already made significant investments in existing software solutions. These traditional systems may, however, lack the speed and agility that are key unique selling points of process automation. As a result, organizations may be hesitant to transition to digitalization in energy, oil and gas. Whilst 30% of oil and gas companies have successfully scaled digitalization, 70% of digital transformation projects are still in the pilot stage.
Workflow automation can help businesses adapt to new market trends, business demands, and technological advancements. By embracing FlowForma's agile process automation solutions, organizations can overcome the reluctance to change and unlock their full potential. This allows businesses to optimize their operations for success in today's fast-paced business environment.
8. Operational Efficiency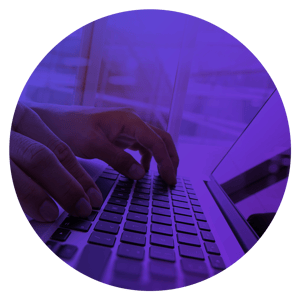 Operational efficiency is a crucial component for the success of any organization. Embracing process automation can be an excellent catalyst for driving processes forward and implementing continuous improvement. It not only streamlines workflows but also fosters an environment that encourages constant growth.
The uptick can be seen immediately. With the right no code tools, solutions can be deployed quickly company-wide – so much so that digitalization offers business executives a great, and swift, opportunity for better process efficiency. By 2025, 70% of organizations are expected to implement infrastructure automation, to improve operational efficiency.
9. Building Resilience
Building resilience is essential for organizations to withstand challenges and uncertainties. In today's rapidly changing business environment, it's easier to control and manage risks by using automation solutions. By standardizing processes, companies can minimize variability and ensure a consistent performance across the lifecycle of many projects.
Process automation enforces accountability by assigning clear roles and responsibilities, allowing for better tracking and management of tasks. As a result, businesses can mitigate potential risks, maintain operational stability, and build resilience to navigate through unforeseen obstacles. Check out our video session on reinventing Oil and Gas with Workflow Process Automation. Embracing digitalization in energy, oil and gas not only strengthens an organization's foundation but also prepares them to adapt and thrive in the face of adversity.
10. Skills Shortage
The energy, oil and gas sector, like many industries, is facing a significant skills shortage when it comes to its numerous processes. This shortage affects both back-office operations and front-facing, on-site processes, creating a pressing need for a comprehensive solution that can address these challenges and streamline operations across the board.
When it comes to helping Oil and Gas companies, we offer an effective solution to this skills shortage by providing a user-friendly platform that enables organizations to digitalize their processes with minimal reliance on specialized personnel. By automating various processes within the energy, oil and gas sector, FlowForma Process Automation not only increases efficiency and productivity but also reduces the burden on human resources by minimizing the need for manual intervention.
Need for Digitalization in Energy, Oil and Gas is Urgent
The energy, oil and gas sector is facing new challenges, as the pressures this industry faces compound. To stay competitive and meet the needs of consumers who expect leaner and more efficient operations, companies must embrace digitalization. Implementing our industry-specific automation solution is a great way for your business to optimize processes, reduce operational costs, and ultimately adapt to a new frontier in energy, oil and gas.
Digitalization is something that is happening no matter what – your choice is when and how to do it.
Sign up for a free 14 day trial