In a challenging financial climate, construction companies are under pressure to modernize their back-office processes and operate as efficiently as possible. Administrative methods are, too often, outdated, relying on Excel spreadsheets, paper-based processes, and long email chains. This adds time, cost, and not to mention frustration to all projects. For construction companies to stay competitive, administrative processes require an overhaul.
Process automation speeds up manual and repetitive administrative tasks such as onboarding site workers, site visit requests, and permission to dig requests. Collectively, these administrative processes take up around 6,000 hours every year. Over a period of ten years, that's 60,000 hours – the equivalent of nearly 7 years!
With so much time (and money) at stake, construction companies must adapt quickly. Today, let's look at how process automation in construction can help fast track admin processes, reducing the volume of repetitive tasks your staff face and helping your business to achieve a better ROI.
Smooth Out Onboarding In HR
HR management is one of the most admin-heavy jobs in construction. High employee turnover is a real issue for HR Managers, and onboarding site workers can be a time-consuming process. If the methods for onboarding are outdated, this process can get in the way of more important tasks. Administration processes like performance appraisals and recruitment are also time-sapping when performed using manual methods.
Automating these processes saves time for HR departments. It removes the confusing trail of administration – long email chains or paper-based forms – and replaces it with a more streamlined system. One where every step in the onboarding process takes place. The process automation platform prompts users at every stage in the onboarding process, ensuring that important steps don't get missed and giving HR Managers back their time.
Tackle On-site Administration
In construction, the back office follows you on-site, with administrative processes required at every stage of a project. Site Managers get stuck in long email chains if they want to request materials or rely on paper-based forms for signatures. This can lead to a confusing audit trail, with information misinterpreted, the wrong materials ordered, and persons involved in the process having to retrace their steps (and figure out what went wrong). This is all a massive time suck in a role that relies on making the most of every minute.

Using process automation in construction, on-site workers like Site Managers can spend less time on their administrative tasks and instead focus on more important work. The best process automation solutions, can be used anytime, anywhere, with, for example, digital forms for timesheets or procurement of materials, available on a desktop or mobile device. The automated forms follow a step-by-step method of data capture, ensuring that information (i.e. a material request) is recorded accurately. This leads to better communication between teams, a clear audit trail, and reduces time spent on a project.
Cure Your Administration Fatigue
The construction industry still relies too heavily on outdated administrative processes. Paper-based forms and lengthy email chains slow down construction projects and create delays (and overheads as a result). Construction companies must reset their administrative methods in order to stay competitive. Embrace the latest technology in construction, with process automation, and see a fast ROI.
Digitize At Scale With FlowForma
A key obstacle to digitization for construction companies is a lack of resources. Implementing a company-wide digital strategy requires both time and money, and under-funded IT teams have neither. Deploying automation across a broad range of processes in construction with a tool like FlowForma Process Automation is a cost-effective way to digitally transform.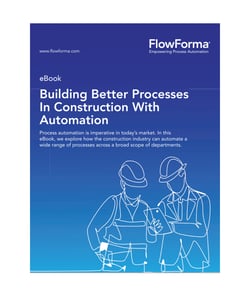 FlowForma is the latest technology in construction, designed for easy implementation. The tool requires no coding, meaning process automation can be deployed rapidly without the need for developers. It's also built on top of Microsoft SharePoint, using the Microsoft database as a safe repository for construction data. With no coding required, rapid adoption rates, and seamless integration with existing systems, FlowForma Process Automation makes it easy for construction companies to digitize at scale.
Find out more about how FlowForma can help bring your processes into the digital future and why it's the perfect solution for process automation in construction. Get in contact with our team today or download our latest construction eBook.