While we all do our best to keep the planet clean, how much difference can one person really make? With FlowForma Process Automation, you can reduce your business's carbon footprint by an average of 16% by automating your significant processes!
Sustainability is not a trend that will pass but a new business reality. Transform your business into a sustainable organization to improve customer experience and save significant amounts of money. Go green with FlowForma so that your competitors will go green with envy.
Sustainability As A New Business Reality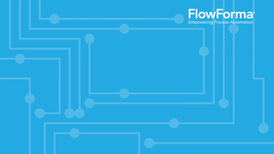 Why should you concern yourself with how sustainable your business is? A green business is better for the environment, but it is also better for your business, customers, and employees! Customers are concerned with climate, and you should be too. This is why you need to win the war on paper in order to win customers over.
A recent report by the Forrester Research Centre* indicates that the green revolution will drive the next wave of business transformation. Not only do customers expect a seamless flow of processes, they now expect to buy from green companies - all the more reason to go paperless and digitize your processes! Forrester shares that in their recent survey 50% of US consumers are Green Consumers (14% Super Green and 36% Green). Don't let your organization be eliminated: gain a competitive advantage by transforming your business with sustainable, paper-lite processes. Improve your customer experience, increase efficiency and reduce costs by going paperless today.
*Husson, T. 2nd August 21: "Greener Consumers Demand Sustainable Brands", Forrester Article.
Save The Environment While Saving Money
We know money doesn't grow on trees, but we would go as far as saying that trees take your money! No, there are not gangs of thieving trees running about, don't worry! What we are saying, is that using paper unnecessarily is the same as spending unnecessary funds. Trees make paper, and paper costs money. Though automating your processes and going digital comes with a cost as well, the cost of doing nothing and remaining paper-based is far steeper. An example of this is seen within our hospital case study, where, by automating processes, this hospital was able to save 905,000 sheets of paper, which roughly equates to $327,574 saved on paper alone!
By using FlowForma Process Automation, you can save your business an average of $80,000 per significant process digitized! Save the environment, while saving your money!
There Is No Planet B, So We've Created Plan A!
In our recent survey, we found that 72% of healthcare organizations are working towards paper-lite initiatives, but that the main obstacle that prevents the move from a paper-based environment to a digital environment is a lack of technical skillset. With FlowForma, this problem becomes a thing of the past. FlowForma is a no-code process automation tool that allows you to deliver significant sustainability efforts to your organization. We have designed our tool with the businesspeople in mind. Users do not need any technical skillset or knowledge of coding to automate with the FlowForma Process Automation tool!
By bringing all of your paper-based processes online, implementing FlowForma Process Automation into your workplace empowers you with a tool that drives process digitization, while generating business efficiency in a sustainable manner. Tomorrow is too late: you can create a sustainability plan for your business with FlowForma by automating your paper-based processes today.
Go paperless with FlowForma and:


Save over 905,000 sheets of paper (90 trees) by bringing your paper-based processes online
Reduce emissions from travel by empowering your staff to work remotely with the FlowForma Mobile App

Combat paper being sent to landfill

Deliver a 16% carbon footprint reduction!
Try FlowForma Process Automation Today
Why not take the first step in becoming a sustainable organization by taking a free 14 day trial of the FlowForma Process Automation tool! Our process experts can offer you a glimpse of what your processes would look like in digital format and the time and cost savings expected by moving your business processes online.