HR development is essential in 2022, with many industry experts and leaders emphasizing the need to transform HR department processes as one of the highest priorities for businesses within the next 12 months.
HR department processes need to adapt to the new world - one that is extremely fast-paced, skyrocketing to a level of high business enthusiasm post-pandemic, that has never before been seen.
Now more than ever, HR is fiercely competing in a race to come out on top, with not only competition, but a business requirement for heightened productivity, agility, and efficiency. To illustrate this, FlowForma has identified 3 key outcomes of adopting HR process automation to achieve elevated success!

Outcome 1: Eliminated Waste
If you have not yet adopted a no code process automation tool for your HR processes, there is no doubt that the waste you produce is astronomical. Waste comes in many forms, time lost, excess paper used in processes, financial squandering, and much more. Robert L. Martin recently emphasized the demand for increased business efficiency in The Harvard Business Review, stating "Eliminating waste is the holy grail of management science".
When you implement a no code tool, such as the award-winning FlowForma Process Automation tool, you can achieve serious savings and significantly increase efficiency. FlowForma customers typically see savings such as over 6,000 annual hours saved, $80,000 saved per significant process digitized, and a reduction in eco waste, saving over 900,000 sheets of paper by bringing processes online.
Outcome 2: Improved Resilience
Those with a keen eye may notice that the above quote from Robert L. Martin was not given in its entirety. The complete quote is as follows: "Eliminating waste is the holy grail of management science - but overemphasizing it leads to a host of problems. Companies should pay just as much attention to resilience". Though efficiency is an essential business outcome, not always does it equate to progress. Zoning in on efficiency alone is an incredibly static business model - especially given today's ever-changing environment. Many companies have recently adopted the hybrid working model, for example. It is crucial to note that entirely paper-based processes would be an impossibility in this new work environment.
Should an organization introduce an online process automation tool for HR process automation, it allows for striking business improvement in relation to resilience. With the FlowForma Process Automation tool, all data is stored securely online on SharePoint so that a user may access forms and workflows outside of the office. On top of this, FlowForma's mobile app enables users to truly automate anywhere, any time.
Digitizing your processes also allows smaller-scale resilience. For example, if you have a paper-based onboarding form that requires a question change, you would have to edit the form, re-print, and redistribute. When the process is online, users are empowered to make real-time changes and updates when the business needs change.
Outcome 3: Unlocked Workforce Responsiveness - Becoming More Agile
HR processes take time, and often, they require multiple people to complete them. Those who have not yet adopted HR process automation will find that completing a process may take hours, days, and in some instances, weeks. It involves a lot of waiting around for other people to get back on a form.
Bringing processes online can boost productivity by reducing the wait time. Users get notified via email of the forms they are required to complete. Workforce responsiveness is unlocked and the path to success has never been clearer.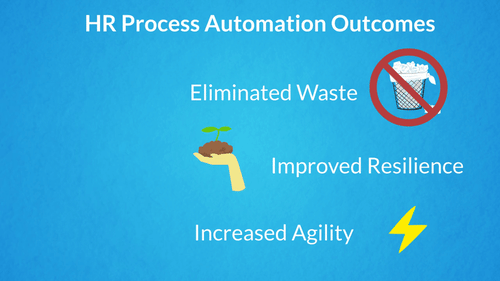 Start Elevating HR With No Code
If you want to see how you can drive digital transformation within your organization using HR process automation, check out this webinar recording to learn more.
Additionally, you can experience FlowForma for yourself with a free 14-day trial of our process automation tool no credit card - no commitment!