∗ This guest blog was written by Sophie Desmond, Digital Marketing Specialist, HubbubHR
If 2020 has taught us anything it's that disruption is more complex than we may have thought. However, that doesn't mean that digitizing your HR processes needs to be.
While some businesses have closed their doors completely, others are trying to keep up with rapidly changing demands, and those left in the middle are attempting major adjustments to operations to adapt to an increasingly uncertain environment. Automation and digital HR are enablers of a new way to work. To thrive beyond the pandemic, companies must look ahead in order to build greater business continuity, organizations of all sizes, big and small can benefit as a result.
Read on to find out why now is the time to digitize the way you work.
Why Is Digitizing Important?
Recent studies by IBM (International Business Machines Corporation) have revealed that 59% of companies surveyed have accelerated their digital transformation in recent times, 66% of which had previously encountered resistance. So, what is digital transformation and why this sudden acceleration?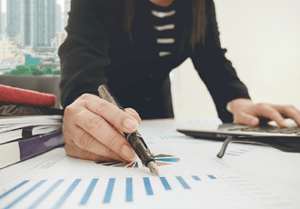 Digital Transformation is the adoption of digital technology to transform services or businesses, by replacing manual processes with digital processes or replacing older digital technology with newer digital technology.
So why the increased demand? The pandemic has created uncertainty and forced companies to confront the flexibility and effectiveness of their business systems. Business leaders need to empower their key decision makers by ensuring they have access to the right data, at the right time, to quickly identify shifting priorities and tackle business continuity risks across value chains. Adopting digital HR is more important now than ever and embracing the power of HR digital transformation is enabling people and their organizations to achieve just that by:
1. Gaining greater business continuity
2. Leveraging digital processes
3. Great engagement and employee experience
4. Relevance of real time data to facilitate decision making
5. Getting the balance right with global visibility and information flow
Not only are business owners seeing positive results, but their employees are too. BCG (Boston Consulting Group) recently conducted a poll which revealed that 50% of employees have seen directly positive results in their job, career or pay because of the implementation of HR digital transformation by their employer. 81% also believe that a digital transformation tool will help companies relaunch activities more easily once the COVID-19 pandemic is over.
So, in the midst of a year that's disrupted almost every element of work as we know it, more than ever now is not the time to stand still. Regardless of what industry you are operating in, now is the time to be forward looking and embrace the power of HR digital transformation. It is important that we all make the best decisions for ourselves, our businesses, and our employees. By building stronger business resilience and maximizing the potential of our people, we can achieve just that.
Watch It Back
Look back at our recent webinar '5 Reasons to Accelerate Your Digital HR Transformation', which HubbubHR partnered with FlowForma on.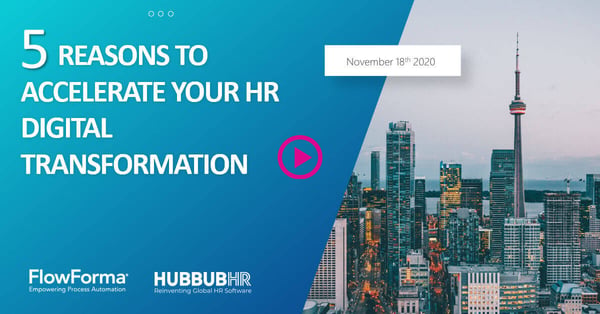 During this webinar we discussed the key benefits of a digitized HR platform, including:


Remote work is here to stay – leveraging digital processes

Getting the balance right with global visibility and information flow

Relevance of real time data to facilitate decision making

Engagement and the employee experience – NPS and pulse surveys

Business continuity – automating response plans
View the webinar recording to learn how digitizing HR and automating processes can help navigate both employees and employers to a new way of work in the COVID-19 era.
For a more in-depth discussion about your digital HR process requirements, arrange a call with one of our process experts or request a personalized demo of the FlowForma Process Automation tool.