With process automation becoming a strategic priority for organizations across the globe for 2022 and beyond, I wanted to support our community by sharing some easily digestible fast facts. Whether you're starting out on your journey to explore how no code process automation could add value to your organization or you're in the final stages of selecting tools to help you rapidly execute your process automation plans, you should find the below information valuable.
1. Drivers For DPA Technology
The Forrester Digital Process Automation (DPA) Technology Survey Results 2021, explain the key drivers for process automation:
32% of organizations cited 'accelerating digital transformation' as their main reason for focusing on process optimization and automation, with 37% predicting this would be their main driver in 2023


Improving worker productivity (26%) and customers experiences (25%) were close 2nd and 3rd drivers


Although cost reduction is a lower driver (9%), 63% rated the importance of cost reduction improvements in measuring the impact of process change, as important right now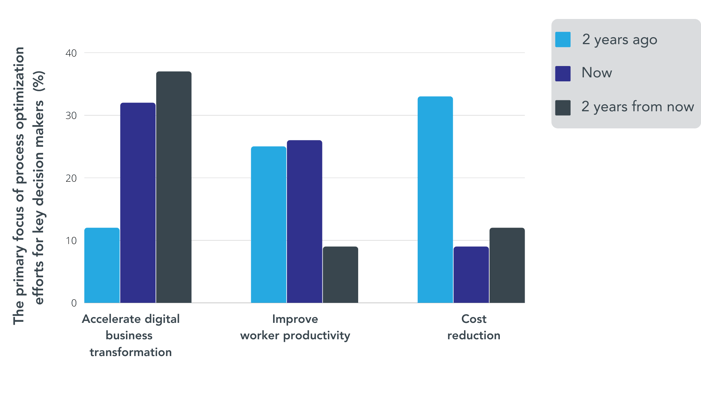 The same report indicates that paper, spreadsheet, and email processes are still problematic, with 99% of respondents declaring that their processes are managed via spreadsheets and email.

2. The Rise Of No Code / Low Code
By 2025, 70% of new applications developed by enterprises will use low code or no code technologies (up from less than 25% in 2020).
*Gartner, Forecast Analysis: Low Code Development Technologies 2021


By 2025, 75% of large enterprises will be using at least four low code development tools for both IT application development and citizen development initiatives.
*Gartner, Forecast Analysis: Low Code Development Technologies 2021


Through 2022, the needs of business-driven hyperautomation will be one of the top 3 drivers for low-code adoption.
*Gartner, Forecast Analysis: Low Code Development Technologies 2021


A 'no code' approach is the best way to accelerate digital transformation. Since process owners and business units are empowered to innovate with minimal (or no) support from IT or outside programming, it's a powerful tool for pent-up change agents. No code enables a higher level of organizational contribution by users than ever before, leading to an increased influence on organizational performance and a higher level of C-Level support.
*AIIM, The Benefits of No Code 2021

FlowForma customers tell us that they digitize at least four times faster with the FlowForma no code tool, than when trialling low code tools.

"The solution we built in

4 weeks with PowerApps

, we created in

1 week with FlowForma Process Automation!

"

- Karl Henderson, Digital Engineering Lead, Downer Group.



3. The Democratization of Citizen Development
The future of development is becoming more democratic and faster, according to the Forrester Report, The Democratization Of Development Is Accelerating. Some key facts from this report include:


Today firms are empowering businesspeople to develop applications as a strategy. In a Forrester survey, 26% of senior developers say their firm empowers business personnel from outside of IT to do development work through a "citizen developer" strategy. Some firms report that citizen developer strategies produce a positive change toward digital culture, where "digital continuous improvement" and collaboration thrive.


In time, "development" will become a normal business skill. In the next three years, the first examples of large scale (e.g., tens of thousands of citizen developers in an enterprise) will take hold, close collaboration between citizen developers and IT pro developers will become a best practice.


In 5 years, "development" work will be fully spread across a spectrum: from central IT teams providing basic services and solving the riskiest software problems, to individual knowledge workers completing simple dev tasks as a normal part of their daily jobs.


In 10 years, we will see development work on common platforms being so ordinary that it won't be called "development" anymore — it will just be work.

4. Digital Process Automation Technology Predictions For 2022
The analysts at Forrester predict that Digital Process Automation Technology investment will have to expand in new and innovative ways to address global worker shortages, as per their Predictions 2022: Automation Report 2021. Key statistics from this report include:
5% of the Fortune 500 will adopt the automation fabric to fuel extreme innovation.


15% of automation COEs (Centers of Excellence) will broaden their scope to include AI-led initiatives.


COEs will move from the tactical to the strategic, and in the process, enterprises will elevate senior leaders to chief automation officers to take a broader, holistic, and business-outcome view of automation.


35% of service companies will introduce physical robot workers.


Advancing automation will push 15% of enterprises to monitor employee psychology.

5. The Next Stage of Digital Differentiation
Craig le Clair of Forrester states that by 2024, companies will realize that competitors that excel at automation have outperformed them.
He predicts that the automatic fabric is the next stage of digital differentiation, in which leaders will transform processes by weaving together automation in a considerate, scalable, and managed way. By 2024, the Forrester Analyst predicts that:


A modern data integration strategy is essential to support the next generation of automation


Business developers will drive the democratization of automation, which will scale


A growing gap between today's centralized, enterprise-controlled information domains and Web3-based blockchain systems will likely grow. One thing is clear: There will be a need to integrate the two domains, and this is a gap typically filled by process improvement technologies.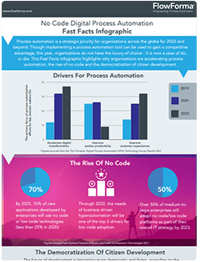 What's evident from the research by the top analyst firms, is that citizen development via no code process automation continues to grow with exponential popularity. No code tools like FlowForma Process Automation, are making development fast and helping organizations to automate, innovate and differentiate.

To discover more process automation fast facts, check out our new Fast Facts Infographic. This infographic highlights key benefits of digital process automation software and why organizations are accelerating process automation, the rise of no code and the democratization of citizen development by reading this infographic. If you'd like to discuss any of these facts, please book a call with our team.