Adopting digital technologies and automating simple business processes may have once been considered a 'nice to do', but today, digitalizing is critical. The current economic climate has illustrated the need for process digitalization, and while previously manual processes may have been considered inefficient but workable, the challenges placed on businesses in recent years means these processes are broken.
Organizations across the world have turned to Digital Process Automation as the solution to these challenges to maintain a competitive advantage and ensure operational efficiency.
If you are new to the idea of process digitalization fear not, as we taken the liberty of breaking down the key questions you may have about Digital Process Automation such as: why you need it, it's benefits, and what it is.


What is Digital Process Automation (DPA)?

DPA stands for Digital Process Automation. It empowers organizations to design, automate, and execute business activities and processes efficiently. Digital process automation technology facilitates the execution of tasks by human resources, that are supported by systems to carry out actions automatically, that together achieve business goals.

The idea of process automation is not new and its promise of cost-saving, and efficiency continues to strike a chord with businesses in all industries. What's taking it to another level is digital transformation, the journey that most organizations have embarked upon. Many organizations have adopted digital process automation software as it is now regarded as an imperative step that is demanded by digital transformation.
Why do I need DPA?
By automating actions across several business departments, it helps to reduce the labor effort required to achieve business goals and ease the frustration experienced by employees, customers or suppliers associated with inefficient manual processes. Achieving business goals consistently faster, reduces costs, manages risk, accelerates business growth, and improves customer experience.
Digital Process Automation software empowers employees to take control of the way they work, collaborate more effectively, eradicate silos that slow them down and accelerate digital transformation. In today's digital age, employees are now more likely to be attracted to, and stay, with organizations that have effective digital systems and processes in place. Additionally, today's workforce are proficient with mobile apps and software solutions, with greater expectations placed on organizations to provide these in order to improve the employee experience.
Explore the 6-steps to Digital Process Automation DPA success!
Gartner suggests that process digitization and optimization are becoming critical organizational skills that will help to reduce running costs, drive productivity, improve compliance, and accelerate digital transformation. Additionally, Forrester suggest that no code development will bring continuous improvement to the digital age.
"Businesses must build on the lessons learned from the pandemic and drive automation to levels that will stretch their creativity and staff.
Efforts will pay off for those with the mettle to achieve what most will not — an overwhelming competitive advantage powered by automation. "Forrester 'Predictions 2023 and Robotics' report.
What is an example of a Digital Process Automation?
A simple example of digital process automation that is common across all industries, is the digitalization of an employee onboarding process within the HR department of an organization. This process commonly involves various tasks, paperwork, and coordination between HR, IT, and various other departments. With digital process automation, the onboarding process can be streamlined and standardized.
An example of a digitalized onboarding process:


Step 1 - Collection of Employee Information: When a new employee is hired, the company offers an online form for them to fill out, providing important information like personal details, contact information, emergency contacts, tax details, and other relevant details. This data is quickly collected and securely stored in the company's HR system.
Step 2 - Document Management: New employees can easily submit their identification documents, such as educational certificates, licenses, and other necessary paperwork, through a secure online portal. These essential documents are securely stored in the cloud and linked to the employee's profile for added convenience and security.
Step 3 - Workflow Automation: After receiving the new hire information, a digital process automation tool can seamlessly initiate a workflow to efficiently handle multiple tasks and approvals. This workflow encompasses tasks like generating employment contracts, initiating background checks, creating employee accounts in IT systems, and allocating necessary equipment.
Step 4 - Employee Portal: New employees have the convenience of accessing a self-service portal where they can easily review and electronically sign employment documents, familiarize themselves with company policies and documentation, complete necessary training programs, and provide any additional information relevant to their specific role or department.
Step 5 - Task Reminders and Assignments: A digital process automation system has the capability to assign tasks to the appropriate stakeholders involved in the onboarding process, including HR personnel, managers, IT, and facilities management. It also has the ability to send automated reminders and notifications to ensure that tasks are completed on time.
Step 6 - Employee Orientation: The system is capable of automating the coordination of new employee orientation programs, team introductions, and welcome messages. Additionally, it offers a personalized onboarding experience by delivering pertinent information, resources, and training materials to the new employee.
Step 7 - Analytics and Reporting: A digital process automation system has the capability to generate comprehensive reports and analytics on the onboarding process. These reports include information such as onboarding completion rates, the time taken for each step, and feedback from new hires. These valuable insights can assist HR administrators in identifying any bottlenecks within the process and optimizing it to enhance the overall onboarding experience.
By digitalizing the employee onboarding process, organizations can reduce administrative burden, ensure compliance and consistency, promote better communication and collaboration, and enhance the experience for new hires.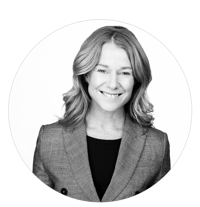 "The digital workflow built with FlowForma Process Automation has helped bring automation into the recruitment onboarding process, taking what was a giant excel spreadsheet with endless data entry that had outgrown its capabilities and combined it into a process flow that is very intuitive to use. The business logic built into FlowForma Process Automation will save time and increase data integrity because information is only touched once."
- Carolynne Heron, Director of Corporate, Morgan Construction.
Read the Morgan Construction case study
Other common business processes, simple or complex, can be easily digitalized, such as: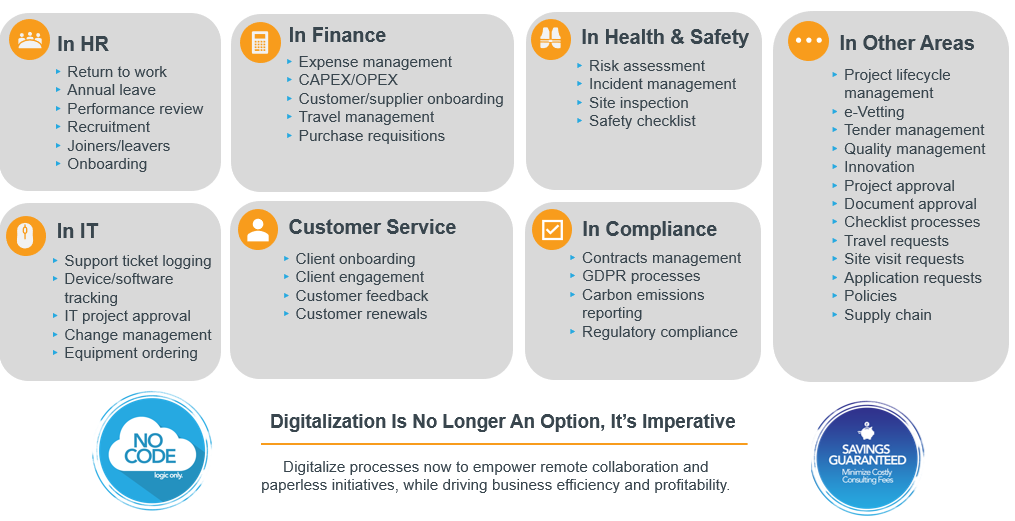 How does DPA work?
In the past DPA systems were built by IT solution providers, providing task management on critical processes. Nowadays, Digital Process Automation offers much more. Not only does it just manage tasks, but data and documents too and is configured by the business process owners themselves. It enables process owners to digitalize on a large scale without running into challenges such as the high cost of customer support/enablement add-ons from IT/solution providers and the delays that can occur during that process.


As a result, Digital Process Automation software is designed to empower process owners. These are the people who best understand what the business really needs and ultimately have a responsibility to manage those processes within the business. Successful DPA projects are implemented from the top – C-level management downward. However, it is the process owners who deploy the digitization of these processes, which in turn drives efficiency.
Who can benefit from Digital Process Automation?
Everyone within the business! From businesspeople on the ground to management and C-level above, digital process automation solutions impact the entire business, once scaled out accordingly. Time saved for employees and cost savings are outcomes that enhance employee experience and improve efficiency throughout.
Here are just some of those who are reaping the rewards of digitalized processes:

🚀 Chief Executive Officer 🚀 Chief Information Officer
🚀 Chief Data Officer 🚀 Chief Technology Officer
🚀 Chief Operation Officer 🚀 Chief Operating Officer
🚀 Chief Digital Officer 🚀 Chief Financial Officer
🚀 General Manager 🚀 Director of Operations
🚀 Director of Technology 🚀 IT Systems Manager

How can Digital Process Automation (DPA) drive operational excellence?
Digital Process Automation drives operational excellence by providing a streamlined approach to identifying, analyzing, and improving business processes. Digital Process Automation can help organizations achieve operational excellence in several ways by:


Identifying inefficiencies: Digital Process Automation enables organizations to pinpoint inefficiencies in their business processes by thoroughly mapping out the current process and conducting a comprehensive analysis to identify any bottlenecks.

Streamlining processes: Once the inefficiencies have been identified, Digital Process Automation can be leveraged to streamline processes by eliminating any unnecessary steps, automating repetitive tasks, and optimizing available resources.

Enhancing visibility: Digital Process Automation offers real-time visibility into business processes, enabling organizations to easily track process performance and swiftly identify any issues that arise.

Enforcing compliance: DPA assists organizations in ensuring compliance with regulatory requirements and internal policies by automating compliance checks and offering a comprehensive audit trail of process activities.

Facilitating continuous improvement: Digital Process Automation (DPA) facilitates continuous improvement by offering a structured approach to measure process performance, identify areas for enhancement, and implement necessary changes.
What are the main outcomes and benefits of DPA?
The main outcomes of DPA include; improved efficiency, increased agility, and better alignment with business objectives. DPA typically involves the use of software tools and methodologies to analyze, design, implement, monitor, and optimize business processes.
One of the key outcomes of DPA is improved efficiency, which can be achieved by identifying and eliminating bottlenecks, reducing manual effort, and automating repetitive tasks. Digital process automation software can also help organizations achieve greater agility by enabling them to quickly adapt to changing business needs and customer requirements.
Another key benefit of DPA is better alignment with business objectives. By aligning business processes with strategic goals and objectives, organizations can ensure that their processes are designed to support business outcomes.
DPA can also lead to improved compliance, risk management, and governance. By providing real-time visibility into business processes, DPA can help organizations identify potential compliance and risk issues before they occur and take corrective action in a timely manner.
In addition, DPA can help organizations enhance customer satisfaction by improving the quality and consistency of their products and services, and by providing faster and more responsive customer support.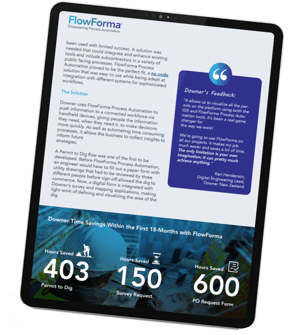 "It quickly became evident that FlowForma Process Automation had a much more robust and customizable set of features to empower our workforce, than any other tool we had reviewed. Our PowerApps equivalent of this process required building 3 different apps (mobile, tablet and desktop) using code by busy IT developers, which was very time consuming. The end-product of which ultimately failed to integrate with other existing systems.
We chose FlowForma Process Automation mainly because of its speed - we only need to build once; no coding skills are required, and it integrates seamlessly with other systems. I love that anyone can be trained up, to create powerful process solutions with the FlowForma tool." Karl Henderson, Digital Engineering Lead, Downer New Zealand.
Read the Downer New Zealand case study
What does no code automation look like?
FlowForma customers have reaped serious savings from empowering employees across the whole organization to innovate, optimize and digitalize the processes that matter most to them. Here is a taste of the ROI some of our customers have enjoyed with FlowForma Process Automation:


$80,000 saved on a material requisition process

6,000 hours of administration saved by innovating and digitalizing 5 key processes

40 significant construction processes digitalized within 10 weeks of onboarding

100,000+ sheets of paper saved by a hospital from digitalizing one process alone

700 hours saved by a joint venture on one process

75% reduction in the number of emails sent on one task

75% increase in how fast processes are deployed with no code


Download An Innovators Guide To No Code Digitalization And Improvement Innovators eBook.
How DPA provides a competitive advantage
DPA can provide a competitive advantage by enabling organizations to improve their operational efficiency, reduce costs, and enhance customer satisfaction. By streamlining and automating business processes, businesses achieve greater agility, faster time-to-market, and better-quality products and services. Here are some ways DPA can provide a competitive advantage:


Improved efficiency: Businesses can streamline and optimize their business processes, reducing the time and resources required to complete tasks. This means faster turnaround times, reduced cycle times, and increased productivity, which provides a competitive advantage in terms of cost and time-to-market.

Better quality: Organizations can improve the quality and consistency of their products and services by standardizing processes, reducing errors and defects, and ensuring compliance with regulatory requirements, all while increasing customer satisfaction.

Greater agility: Companies can quickly adapt to changing business requirements and customer needs by providing real-time visibility into business processes and enabling rapid process changes.

Faster innovation: DPA helps to accelerate innovation by enabling organizations to quickly design, test, and implement new business processes.

Cost reduction: Cost reduction can be achieved by eliminating waste/inefficiencies, optimize existing resources, and automate mundane, repetitive tasks.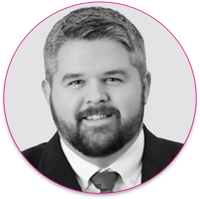 "We're doing more at the front end, like uploading site photographs straight into FlowForma Process Automation. Huge time savings leads to cost savings, and that allows us to take on almost twice as many deliverables as we normally would. When you scale when people are working remotely and can't easily relay information to teammates, there's a risk people will do things differently. Digitizing in FlowForma Process Automation has solved that by creating a centralized repository. It means we're not constantly reinventing the wheel."
- Jimmy Monahan, Principal Building Envelope Consultant, Rimkus Consulting Group.
Read the Rimkus Consulting Group case study
How DPA lowers operational costs
Operational costs are the expenses associated with running a business or organization. These costs can include salaries and wages, rent or lease payments, utilities, equipment maintenance and repair, supplies, inventory, and other expenses necessary to keep the business operating. Operational costs can be a significant portion of a company's overall expenses, and reducing these costs can have a positive impact on the company's bottom line. Digital Process Automation is one way to identify inefficiencies and streamline processes, which, in turn can help reduce operational costs. Other strategies for reducing operational costs include outsourcing, reducing inventory, renegotiating contracts, and implementing energy-efficient practices.
To meet the enormous need for process automation and improved digital experiences, organizations are empowering non-IT workers to automate and optimize the processes to which they are closest. FlowForma's 100% no code process automation tool empowers employees to take control of the way they work, collaborate more effectively, eradicate silos that slow them down and accelerate digital transformation. No code automation makes creative innovation a part of everyday work, it encourages innovation and creativity, empowering individuals, and subject matter experts to make improvements in critical areas of the business.
How DPA drives efficiencies and maximize profits and customer experience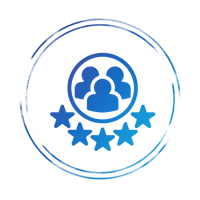 Digital Process Automation solutions can drive efficiencies and maximize profits and customer experience by improving the efficiency and effectiveness of business processes, reducing costs, and enhancing customer satisfaction. Here are some ways in which DPA can help achieve this:


Process optimization: Optimization of business processes helps organizations to identify and eliminate bottlenecks, reducing manual effort, and automating repetitive tasks.

Maximize resources: Businesses can maximize their existing resources by providing real-time visibility and allocate resources to reduce waste and maximize profit margins.

Customer satisfaction: Enhancing customer satisfaction can be accomplished by improving the quality and consistency of products and services, and by providing faster and more responsive customer support. This ultimately results in increased customer loyalty and retention.

Continuous improvement: DPA supports continuous improvement by providing a framework for measuring process performance, identifying areas for improvement, and implementing changes.
How do I get started with Digital Process Automation Software?
The key to any digital transformation project starts with top-down leadership. However, its success will depend on buy-in from automation champions across the entire organization. This is why a DPA tool is great for enterprise-wide transformation. The people and business units that use the processes are willing enablers of change as it will make their jobs easier. Furthermore, C-level management will be the ultimate the beneficiaries as the organization takes significant steps on its digital transformation journey.
Process automation provides benefits in efficiency and service improvement as soon as it is deployed and adopted in an organization. 'Time to deployment' is critical to the overall success of any automation solution.
It is always advisable to start with a strategy for deploying processes and look to deploy your first automated processes within the first month after acquiring a digital process automation platform. Select the areas or the business that will see the most benefit, implement quickly and generate momentum. Process automation solutions provide metrics on how well the processes are performing so that you can easily see the impact of automation to the business.
Think about processes that are costly in terms of the number of hours and perhaps number of employees it takes to execute. Are there processes that need to be completed to ensure you adhere to legislation? The opportunities are endless but for your first process, choose to automate a process that will deliver ultimate impact.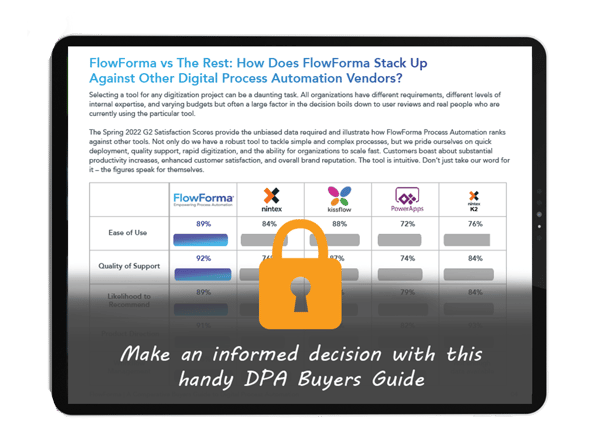 Download FlowForma's comparative guide to learn about Digital Process Automation and uncover which tool is right for you. The guide also includes a free process automation timeline and handy DPA checklist plus much more!
Digitalizing at Scale
When looking to digitalize at scale within a business the onus tends to lie heavily on highly skilled IT resources. Unfortunately, they are in very scarce supply right now. They are also very expensive to outsource. The solution to this inhibitor is to empower process owners and stakeholders across the organization – those who know the processes best. DPA tools are available such as FlowForma Process Automation that allow individuals and teams outside of IT to implement that change. From there, the trick is to get buy in at all levels of the business to ensure everybody is aligned, and everybody is following the mission set out initially from C-level management.
SureStart
FlowForma's SureStart onboarding program is designed to enable new customers to automate their business processes quickly and easily, using our unique no code process automation tool. With the support of our process experts, we help you deliver your first business process live within 3 to 4 weeks. This knowledge transfer empowers individuals and process enthusiasts to digitalize processes at lightning speed.
How much does DPA software cost?
The award winning, 100% no code, FlowForma Process Automation tool ticks all the boxes for businesses due to its 3-in-1 functionality of forms, document generation, and workflow all in one intuitive place. Entry costs are low to get up and running, with a return on investment delivered within the first 6 weeks of deployment.
The single tool integrates seamlessly with hundreds of software systems to maximize the investment in your current tech stack, increase the efficiency of building solutions, and ultimately delivering user acceptance.
Why our users love us:


Integration of workflow, forms, and communications increases configuration productivity

Easy to use end-user interface reduces the number of clicks required to enter data and progress workflow

Only pay for active users

Minimize costly professional services and consultant fees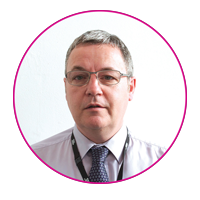 "We have transparency and visibility that we didn't have before, and a consistency in the data that makes it much easier to generate reports. It encourages everyone to act far more professionally than when we depended on paper. You can't submit half filled-in boxes because the system won't let you. Even little things, like the better understanding it gives people of their own cost centre, helps improve the professionalism of the organization.
I recommend the FlowForma Process Automation tool to other colleges as it can save them money, improve their efficiency, and give them the real-time visibility they need."
- Mark Lay, Finance Director, Abingdon & Witney College.
Read the Abingdon & Witney case study
Visit our pricing page for more information.