It is surprising, when the pressure on healthcare services is unrelenting that so few services have introduced new digital technologies to improve patient care.
And yet, the early adopters have shown how digitization of procedures in healthcare creates significant cost savings and more efficient use of resources leading to a higher standard of patient care and better outcomes.
The advancement of secure cloud solutions, offering pay-as-you-go pricing, and mobile accessibility have made the adoption of digital solutions easier than ever before. Where high upfront costs and old IT infrastructure may have held back digitization in the past, newer cloud-based mobile enabled platforms remove the old barriers and strengthen your capability to deliver high quality healthcare services.
What Does 'Digitization' Mean To Healthcare?
FlowForma has success stories across the healthcare industry including clinical and administrative functions in mainline hospitals, senior homecare, medical device manufacturers and drug distributors. In all cases, our clients use FlowForma Process Automation to replace paper with electronic forms and processes, reducing the risk of poor communications with automated emails and documentation, and ensure that all of the necessary information is captured at the right time by the right person.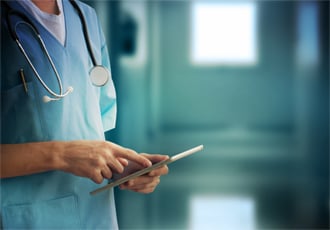 This makes every process run more smoothly, with real-time traceability so you can see where everything is at any time, knowing who 'has the ball' and whether things are on schedule or delayed.
Better processes lead to better patient care, allowing you more time to focus on patient needs.
Take, for example, incidents and wound management. A healthcare worker visiting a patient at home can take photographs using their mobile device and transmit them with their appraisal of the patient to clinicians. Clinicians can draw up a treatment plan and communicate it directly into the hands or the healthcare worker who can then record the progress of the plan while never leaving the patient's side.
In the often chaotic hospital environment, having nearby access to a patient record with the ability to record notes, without the need for paper, is invaluable. FlowForma Process Automation allows this to happen without the need for investment in an expensive HIS and in a way that works for the specific resources and procedures operating in your own hospital.
What Do You Need To Implement Change?
It may be obvious but still worth saying, as it is often the hardest part - you must have the desire for improvement. You will not improve unless you want to and are organized to implement change.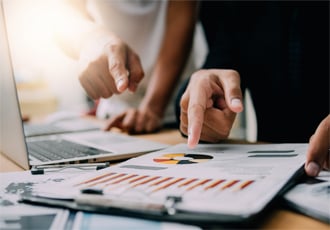 The next part is far easier. Using FlowForma Process Automation, you can quickly build solutions that replace paper. You do not need much help from IT, as the system is designed to be built and managed by the people who execute the processes. We have many case studies showing how end users, even busy clinicians, can implement their own digital solutions. Even if they choose to use the IT department, the flexibility of FlowForma Process Automation allows you to put a draft process in place and refine the draft to ensure that the process operates most effectively in your environment, with your specific human resources, your assets, your activities, your regulatory responsibilities. The end-result is a drastic improvement in efficiency, brought about by a solution tailored to your precise needs.
Our case studies show that successful implementations of FlowForma Process Automation only require a champion to get process improvement off the ground, and a few quick-wins to show everyone how easy it is to move forward.
What About The Cost?
The use of cloud services allows our users to start small and manage the costs in relation to the adoption of digital processes. There's no big up-front cost, as you can buy in cheaply, use your own resources to deliver digital solutions and expand gradually. To get you started, we have developed an onboarding service, SureStart, that helps you deliver measurable return on investment in a matter of weeks.
How Do I Build A Business Case?
Our extensive case studies are a great place to start. I recommend our 'Curing Process Pain Points in Healthcare'. A short read that is filled with quotes and stats from a large hospital.
If you would like to see what a digital process automation system looks like, sign up for a free demonstration. We can show you what digital processes would look like in your specific scenario, and help you build that business case to kick off your digital transformation!