Many organizations are looking to digitize at scale. This need goes beyond the digital transformation programmes of the past. There is increased urgency to ensure organizations remain competitive in their field by becoming more efficient and providing better customer service. Combine this with the challenges of remote working in the 'new normal' and you quickly realize that no IT department or IT services vendor is going to be able to deliver fast enough to meet the needs of today - tomorrow is too late!


An Alternative Approach To Digitization
People are looking to alternative approaches to keep up with the competition. Using business resources to build digital solutions is now a real possibility. Tools and support systems built to specifically cater for citizen developer needs are now both available and proven (look to our case studies for examples of success). FlowForma Process Automation provides an environment where citizen developers are trained quickly and can deliver solutions in record time using no-code configuration. Citizen developers deliver measurable benefits for a minimum investment of time from the business.
However how is risk controlled while maintaining momentum for change? How can the cost of IT resources be controlled and minimized? FlowForma provide a governance application that answers both of these critical questions.
The Importance Of Governance
Governance over the activity of citizen developers reduces the risk from developer activity, allowing developers to create new innovative digital processes, or increase efficiency through tweaking existing processes, without adversely impacting production environments.
Applying this level of governance can involve a relatively high maintenance cost, often born by the IT department, who maintain infrastructure and insulate production environments from adverse changes.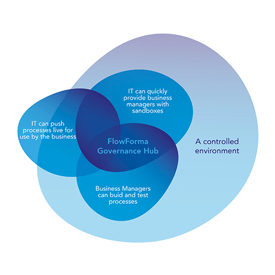 The FlowForma Governance solution allows IT departments to manage the deployment of FlowForma Process Automation throughout their organization, supporting the activity of citizen developers, with minimal effort. Our governance app allows citizen developers to request new sandboxes where they can learn the skills needed to be creative, build no-code solutions and have them validated by their colleagues. Once the solution is ready for the big time, they request IT to promote the process into production. IT act as a gatekeeper, reviewing the request and accepting it to automatically move the process into the live production environment.
The governance solution automates the fulfilment end of requests, allowing the business resources to concentrate their efforts on innovating and IT on maintaining the infrastructure.
The system also automates the distribution of digital processes to multiple sites at once. For example, where you have a central site to store a set of template digital processes you can use the governance solution to distribute your templates to all of your departmental/divisional sites.
By minimizing the time spent, and by controlling the risk, the governance solution facilitates digitization at scale, where you can move at the pace dictated by the business need for change.
What About The Fringe Benefits of Central Administration?
Of course, risk and time saving are not the only benefits of governance. You can also maintain branding, data connections, extensions, product features, users/roles etc. via our governance solution, facilitating IT's maintenance duties over FlowForma Process Automation deployments.
Visit our website to discover more benefits of our Governance app, or you can view a webinar where I discuss how to empower citizen developers to build and test processes without any coding in a controlled environment.

For a more in-depth discussion I suggest you reach out to us to arrange a one-to-one or demonstration of the tool in action.