Source: National Highways 21/22 supplement.
Read this excerpt from The National Highways 21/22 supplement to discover how construction companies are utilizing intuitive workflow tools like FlowForma Process Automation to transform how they work – one process at a time.
---
Today more and more construction companies are looking at Digital Process Automation, in a pursuit to operate as efficiently as possible, keep overheads low and be competitive. Process automation is now a strategic imperative, with construction firms racing to digitalize at scale. Agile automation is the new norm, and businesspeople are driving agile and rapid automation.

Construction firms commend FlowForma for empowering them to get their back office in shape, reduce administration, and use on-site resources more effectively. It's 3-in-1 (forms, workflow, and document generation) tool is 100% no code, meaning it's highly intuitive and easy to adopt. With a few days of training, businesspeople can automate processes, in an environment safely governed by IT. The use cases are limitless, from onboarding and material requisitions to contractor management, and risk assessments.
FlowForma Saves The A14 Integrated Delivery Team Days
FlowForma serves construction firms and multi-million infrastructure projects across the globe. Its workflow tool was used to automate >70 processes on the A14 Cambridge to Huntingdon Improvement Scheme, and gave this joint venture the single source of truth it wanted, contributing to the 'golden thread'. No code was important as it supported a plan to scale digitalization with limited IT resources. The FlowForma mobile app facilitated users to complete tasks and input data on the go, even without mobile connectivity. The collective impact of FlowForma saved the A14 IDT days in time by automating processes and cutting down on paperwork. Increased efficiency, better governance and improved reporting are additional benefits delivered.
Changing The Way Construction Works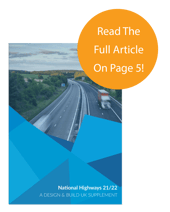 FlowForma Process Automation is the leading provider of process automation tools for construction, trusted by construction firms and multi-million infrastructure projects to make workflows less IT-centric, drive efficiency and provide a single source of truth.
National Highways has praised FlowForma for "changing the way construction works", but we encourage construction and engineering companies to 'see for themselves' and explore these sector-specific process templates and digital construction tools, by booking a free call with one of the FlowForma experts.