The benefits of digital transformation are understood by the construction sector as a way to navigate a complex ecosystem of contractors, suppliers and architects. A 2021 FlowForma survey revealed that 69% of decision makers in the industry want to replace paper and manual processes with digital, yet the sector still ranks low in terms of digital maturity.
One reason why it has struggled to anchor significant IT systems and solutions in its business is because projects are often run from temporary locations. A lot of time is spent setting up construction sites, and then taking them down after a few months or years depending on the size of the project. Compounding the problem is that projects are often joint ventures, with different companies bringing different systems and working practices to the build.
We know this because of our experience with construction clients who have used FlowForma Process Automation to digitally transform the way they work – one process at a time. An incremental approach to digital transformation is something that has gained widespread traction during Covid lockdowns with other technologies, where the switch from manual processes had to be quick and easy, rather than a 'big bang' IT project.
Digitizing On-Site Activities
When a new construction site gets the green light, the project team has to assemble components that will make it successful. Little wonder that paper-based processes and form-filling prevails as they try to accommodate internal and external stakeholders. As research company Forester observed: "Workflows can span enterprise boundaries with a content microprocess, such as an action to request files, upload documents, or grant authenticated access to secure repositories."
In the FlowForma survey, 37% of respondents said they have problems accessing task information on-site. What gets in the way of doing it digitally is that nearly a quarter, 23%, believe a perceived lack of skills prevents their organizations from moving processes online. Forester talks about business-led automation overcoming IT resource scarcity, and that's precisely what we do at FlowForma.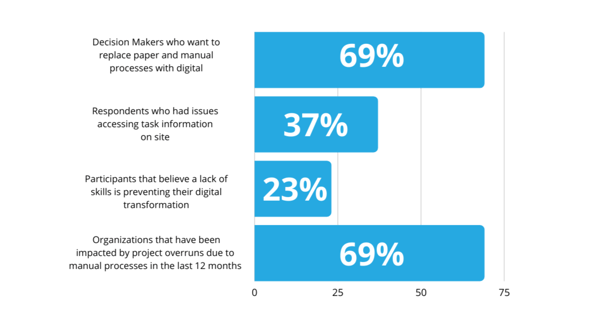 * Figures based off of the results of a 2021 FlowForma survey*
Our 'no code' software is a strong fit for teams that are not particularly IT literate and spend little time in front of a desktop. FlowForma Process Automation allows businesspeople to create their own workflows for their own line-of-business processes without any need for coding skills. James Morgan, the IT Manager at the A14 Integrated Delivery Team, summed up why he believes FlowForma Process Automation is so well suited to construction sites. "You're enabling people in the field to work on forms from anywhere," he said, "you're not waiting for someone to get back to their desks."
Demonstrating Regulatory Compliance
FlowForma Process Automation is used to digitize many tasks and approval processes that were previously paper based, from digging permits, site visits, and incident management forms to quality inspection and field change requests.
Meeting regulatory requirements around health and safety alone is a big benefit, a labyrinthine task for the sector that the FlowForma Process Automation tool helps tackle. Its forms and workflows leave a digital trail that provide an auditable record of everything that occurred. The tool is also used by companies to demonstrate levels of BIM compliance around information management that is now mandatory for some project work.
Big wins with the FlowForma Process Automation tool are around efficiency gains and better visibility, but it's important to remember that digital workflows can also help with compliance and avoiding penalties, benefiting the bottom line as well as day-to-day processes.
Not All No Code Solutions Are Equal
No code solutions only make sense if they are quick and easy to use. One of our construction clients, Downer Group, did a head-to-head comparison with another product when it looked to automate a 'permit to dig' process. What took a month with the other software took one week using FlowForma Process Automation.
Others have found FlowForma Process Automation indispensable for enabling collaboration with external partners. Costain, Skanska and Balfour Beatty came together as A14 for a joint venture road-building project and used the FlowForma Process Automation tool to securely distribute tasks between themselves. James Morgan described how it became the glue that helped them worked together: "Using FlowForma Process Automation enabled us to draw a line in the sand and say, 'this is the A14 process that we will use moving forward'. It guarantees consistency," he said.
Remote sites, joint ventures and multiple suppliers are a breeding ground for fractured processes that make it hard to be efficient and compliant with regulatory requirements. We like to think that we provide a simple-to-use solution, digitizing processes that have been stuck in the past for too long.
For more information on how FlowForma continues to assist construction companies, visit the construction webpage on our website. Alternatively, you can take a free trial for 14 days and access our fully customizable construction accelerator templates to further ramp up your digital project.