Now that the dust has settled on the Healthcare Excellence Through Technology Show (HETT) exhibition in late September, it is a great time to reflect on another super event at the fantastic ExCel arena in London.
Change is definitely in the air and the pace of digitisation is clear to be seen. I remember a conversation with a Healthcare leader, 'post covid', on how there had been more change in 18 months than there had in the previous 18 years. Now, a further 18 months down the line, you can see the urgency to automate healthcare workflows ramping up even further.
Although this still needs to be accelerated, conversations with end users indicate that their efforts are still inhibited by manual processes, and the plethora of systems they must access, which is taking them away from their core roles.
One recurring question (I lost count of the number of times) was, 'so are you guys RPA?' This is a lot to do with the significant efforts that have been made within the RPA space over the last five years and some of the success stories. However, there is also a slightly negative connotation as it seems that the consensus is that RPA can be used in every scenario in relation to workflow and one size fits all. A myth that warrants some explanation.
Digital Process Automation vs. RPA
Digital Process Automation compliments RPA as opposed to competing with it. If, for example, you have someone sitting in a back-office role keying in data all day, or doing repetitive tasks, that is a great fit for RPA. Digital Process Automation (DPA) or Business Process Management (BPM) is required for human-centric workflows, e.g. where a user needs to apply rationale around the data being captured (A bot cannot do this), before passing that workflow through to other persons, or groups within a hospital or trust, or even an external user outside of core users. Other benefits include being able to manage workflows (specifying time to complete), a helicopter overview of bottlenecks, and the ability to report on the data. Once the differences were explained this was the ''Lightbulb'' moment which led to good conversations on the endless possibilities for Process Automation + RPA.
If you'd like to know more about the differences between RPA and DPA, check out this Forrester report explaining the differences.
Automating Workflows on the NHS Shared Tenancy is a No-Brainer
The NHS shared tenancy was something I was keen to discuss with those who were using it, and there seems to be a mix of hospitals having a hybrid approach, and those still on their own tenant. However, most delegates were in complete agreement that leveraging their current Microsoft position to drive automation made complete sense, and to be able to do this without CODE, and development resources (that apparently "simply cannot be got"), was even more attractive.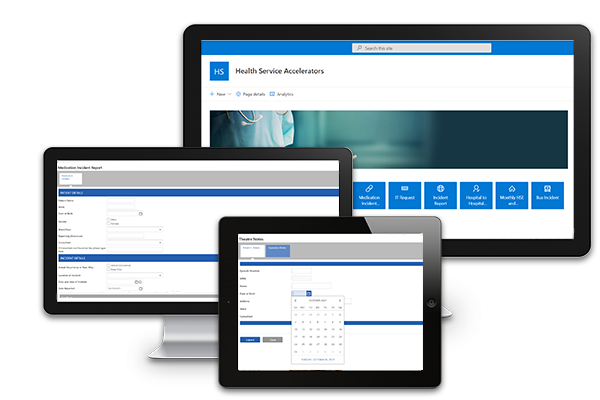 Integrating With Core Systems
Another discussion point was around integrations (common in all industry verticals we work in, not just healthcare), and how the ability to push and pull data from core systems is a critical consideration for anyone weighing up whether to start automating in areas that require core integration vs. starting with what would be classified as back office/operational workflows whereby integration outside of the standard Microsoft Eco System (SQL/Sharepoint), may not be required.
Luckily this opened so many additional conversations as FlowForma Process Automation has the functionality within the solution, and resourcing, to offer both and can deliver short-term but scale long-term.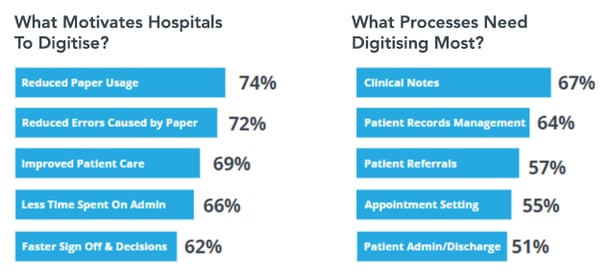 Overall, it was a super event. The engagement and maturity in this space is really starting to accelerate.
If you need some more information on the suitability of process automation within your hospital, trust or healthcare organisation, I'd be happy to help you explore all the considerations and advise on where to start. Feel free to get in touch with us and we will do what we can to help.