So what is FlowForma's vision? Do we envision that all our jobs will be replaced by robots while we as humans focus on the 'Arts'? I don't think it will be that drastic (though we may have some micro-chip implants), but one thing is for certain we are in a world of digital acceleration where the rate of change is consistently increasing.
So how do we deal with this rate of change?
As people, we need to be agile – willing to accept new ideas / new methods / new ways of working / willing to innovate to survive. Technology needs to match this to keep pace. Intuitiveness and agility needs to be 'baked in' to user experiences or users won't embrace the technology. New technology needs to empower agile people.
So how does this impact your businesses?
How does your businesses relate to this 'digital world' so they themselves remain relevant? A great way to help you assess this is using a Digital Business Maturity Model. There are several of these available, but here is one I quite like from Salford University in Manchester, England: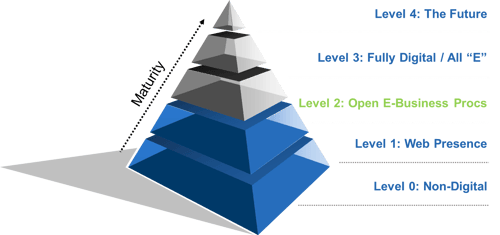 Source: http://blogs.salford.ac.uk/business-school/digital-business-maturity-model/


It essentially traces where businesses are positioned from a digital maturity perspective and where they need to move to in order to become digitized and avail of all the benefits that this brings to the business.
Level 2 is the area we tend to focus on. Within this level there is the concept of bringing company's internal processes into a digital world (digital process automation) and driving real business opportunity by extending and opening these internal processes to the outside world with your partners and customers.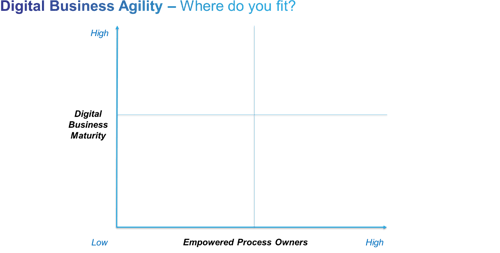 Bringing It All Together
So when we bring these elements together we talk to our customers about a future world powered by Digital Business Agility, combining digital business maturity with empowered process owners and users who are agile and innovative in their thinking.
This is how we see the future – technology that is empowering and intuitive. We at FlowForma currently focus on digital process automation through empowering users with no code digital process tools. You can see across the wider technology landscape other vendors are focusing on empowering business tools, such as intuitive reporting driving business insights, for example.
So in closing, I'll quote Abraham Lincoln: "The only way to predict the future is to create it".
Begin your digital process journey today.