The demand for process automation is higher than ever, as are the stakes. For those under threat from digitally disruptive competitors, the urgency is very real.

Last month, I was thrilled to host a webinar featuring Rob Koplowitz, VP and Principal Analyst, Forrester Research Inc and my colleague Ross Cullen, our Digital Adoption Specialist here at FlowForma.
Webinar Recap
On the webinar, we discussed how throwing technology at the problem is not the solution. And that to meet automation demand, you will need to organize differently than ever before. You must turn your business people into automation change agents.

Rob joined us equipped with all his latest research and tips on how to achieve the process imperative and recommendations for automation that supports the customer journey, drives outcomes and sets business people up for automation success. While Ross shared insights on how FlowForma customers are turning their business people into change agents.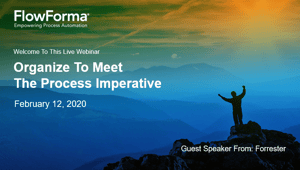 Watch the recording of this webinar @ www.flowforma.com/forrester-webinar-recording-feb
You can also download the report here.

Here's a few things you'll learn from watching the webinar:


How successful businesses are organizing to embrace no code process automation

How to keep powerful technologies in their own lanes, complementing and not competing with one another

How to organize for process excellence first, automation second
Use cases of how FlowForma Process Automation customers are

empowering their business users to be automation change agents



Get Involved
I hope you enjoy the webinar recording! 😊

My favorite advise from Rob was "Automate for outcomes, not just for the sake of automation - think about what your trying to do and achieve". Let me know what your key takeaways are by commenting below.
Why not take the first steps in helping your business people become automation change agents, by taking a free 14 day trial of FlowForma Process Automation.