We all love a Top 10 list, don't we? It's a great way to get a fast overview of a subject without actually delving into it too in-depth. Snackable insight for a fast-paced life!
We have pulled together our team of Customer Success Agents, Sales Engineers, Territory Managers, and anyone else in the company to compile a list of the top examples of BPA software questions we get asked by customers who are embarking on their journey of process automation. We want to share what the biggest concerns are of companies right now and we wanted to give a view on what senior managers and owners are trying to understand, as they look to transform their business and future-proof their offering.
We are not trying to be a local radio DJ – this list is not a countdown! The list below could have been ten times longer, but we have tried to cover off the most interesting and challenging questions our team are asked on a daily basis.
1. What Is Business Process Automation (BPA)?
You would be surprised about how many senior, intelligent, and reasonably well informed people don't know what business process automation is, never mind how it works. When we answer this question, we tend to ask the client to "imagine a world where business processes are easily managed, where data flows exactly as it should, where bottlenecks are identified quickly, and you make better decisions.". At the start, it is best not to take a very high-level view of what you are trying to achieve. Imagine the new utopia and aim for that.
Learn more in our explainer video here.
2. What are the Benefits of No Code Process Automation?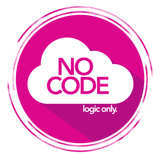 FlowForma Process Automation is a no code tool. We believe that process automation should be designed to be configured by the people who understand your business needs. In this way you retain control over the processes that run your business, you maximize time to value by having no reliance on IT personnel or outside development channels and your empowerment of the business user will see increased innovation in your process structure.
Learn more about the real benefits of business process automation.
3. How Do I Get Started?
This is one of the top examples of BPA software questions we get asked daily! Too many companies have meetings about meetings about meetings when it comes to initiating change. The key to initiating the change to automate your business processes is to just get started!


Find the platform of your choice (we would recommend that all companies go no code process automation as this is undoubtedly the way everything will be going over the next few years).

Identify a key process that can be automated (on-boarding etc.)

Build the process
Just get moving on it. The more you get going, the more you will uncover as to what needs doing.
4. What Technology Do I Need to Get Going?

Most businesses will be using some type of platform that stores and manages their data such as Microsoft Office 365 or Google G-Suite. FlowForma Process Automation works on SharePoint which is a part of Microsoft Office 365. Good process automation platforms will integrate with your core technologies and not hold any of your data at any time. You can also enjoy full visibility of tasks, decision-making capability and collaboration in the FlowForma workflow app for Microsoft Teams.
5.
Is There a Favored Approach or Methodology?
Yes. If you speak to most of the top agencies in business process automation, you will hear them talking about a "Process First" approach to transforming your business and automating your processes. This approach effectively sees you the business owner, map out your processes as the business requires them to be, rather than as dictated by your current technology stack. The first iteration of your processes should be built out in this fashion, allowing you to ascertain which technologies you need to integrate into your Business Process Management solution and which you would be better to ignore and deprecate.
This approach typically sees more robust results and more effective processes than trying to integrate everything first.
6. Can You Guys Build Some of My Processes?
Yes, you can. As part of our customer onboarding process we have a SureStart program, which is designed to enable us to work with you to deliver your first process into production, making onboarding as smooth as possible for our new customers. After the SureStart program, if you do not have the resources to build out additional processes, our Professional Services Team can build the processes for you.
7. How Do I Get Buy in Internally?
First get started. If this is seen as a fanciful project, people will be reluctant to get involved. This should be seen as a new dawn. It should be seen as a momentous moment as when the first website was created, or the first emails distributed. This is going to be how we all do business now. Next, get them involved, ask for more processes and encourage training. Reward those who take the initiative and who want to change.
8. Can You Integrate?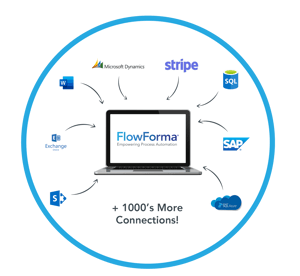 Yes. FlowForma Process Automation can integrate with almost any platform. However, we would always say, that integration with other platforms you use should be secondary. Using the "Process First Approach", we would recommend that you create and publish your processes and really understand what is needed BEFORE building any integrations.
9. What Is My Return on Investment?
We do a session called a Proof of Value Workshop with some of our potential clients to write a number against this request. We look at one process, and we look at the man-hours and resources needed to run that process currently and then we create a POV calculation for that one process over the course of a year. Typically, we see the cost of our license dwarfed by this cost on just one process.

That approach only scratches the surface though. For real value you need to look at so much more. Check out this brilliant article from our Head of Marketing, Niamh Lordan, on How To Glean Value From Process Automation.
10. What Happens if I Don't Automate my Business Processes?
"I am fine the way I am thanks". I get it. Your business is working just fine, and you don't feel you have the time to work on it now. I would just ask – can you work without email? Can you work without a website? Could you return to work on just paper?
Not all companies are innovators, but the older we become, the more we realize the things we should have got on with earlier. The top investment houses in the world are backing process automation and no code in a big way. It's happening. Your choice is to either do it now or kick that can down the road a bit more. Either way, you will be doing it.
Well guys, that's your top 10 examples of BPA software FAQs. Typically, most businesses we speak to are starting their automation journey now. COVID-19 was a tipping point for them, and the need is now greater than ever. Our advice remains the same, choose no code, pick a process, get going, in the words of Seneca; "The whole future lies in uncertainty: live immediately".