The oil and gas sector is facing new, and momentous, challenges. Energy demand is high – due to steady population growth, global economic development (especially in developing countries), and conflict in oil and gas-abundant areas. On top of this, consumers are looking for leaner, greener energy sources.
To address these challenges, companies are turning to workflow process automation tools for oil and gas, which can help to reduce the cost of operations, manage workflows, and prepare for unplanned outages and downtime.
If you're in the oil and gas sector, and want to know what the automation hype's about, here's your checklist for selecting oil and gas automation software.
1. Pick An Easy Process To Automate First
At first glance, the automation landscape looks intimidating. With so many vendors and possible processes to automate, where on earth do you start? Which process should you automate first?
It's common not to have a clear grasp of this technology straight away, nor its potential for your business. If you're just starting to peruse oil and gas automation software, and its many use cases, here's a good rule of thumb: pick a simple process to automate first.
Starting small helps you to familiarize yourself with the technology, lets you create a simple electronic workflow, and discover the wide-ranging benefits that automating just one process can have.
What's a Good Example of an Easy Process to Automate?
An easy process should have the following:


A short time to value

Few collaborators

Few steps in the process
An "easy" process suited to automation might be described as the following: simple theoretically, but in fact takes a long time to complete and contains bottlenecks and stoppages along the way. It also should be based on manual electronic systems, like email. Here's a good example:
Example: Safety Equipment Request
Requesting safety equipment is a simple process from the outset. Requests are made using spreadsheets, emails, or PDF-type forms – and sent to process collaborators for approval. For projects that require this safety equipment for a specific, timely purpose, any delays in the request process will have a knock-on effect later. Getting a request delivered, approved, and signed-off should happen swiftly, without delay.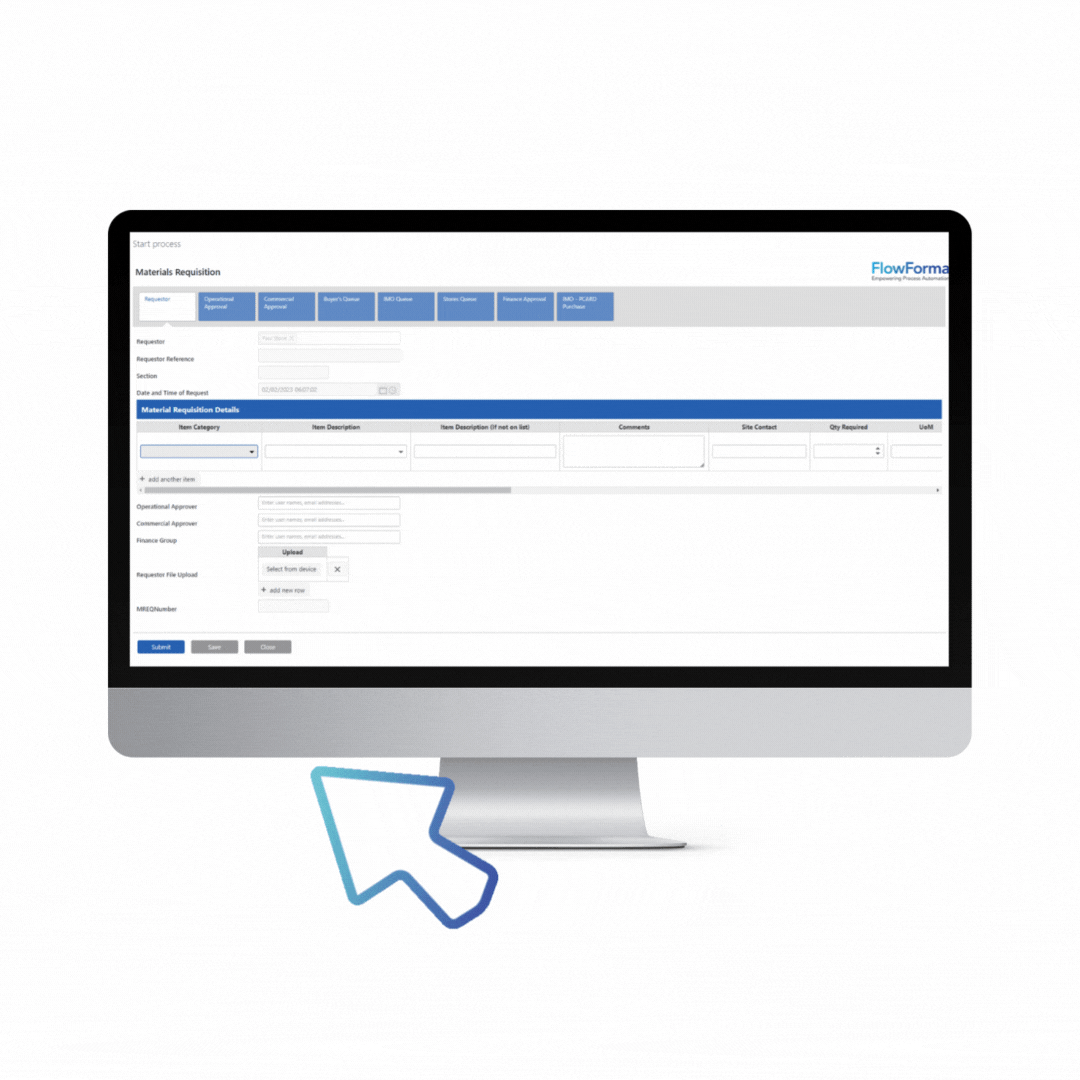 When requests are made on manual systems (email, spreadsheets etc.), they can, however, get lost in translation. Spreadsheets are more prone to human error (almost 90% of spreadsheets contain errors) while emails containing documents, or even the emails themselves, can easily be overlooked. When requests jump between departments which don't communicate face-to-face every day, serious bottlenecks can start to appear.
How Does Automation Help?
Oil and gas automation software is all about process simplification. For the safety equipment request process it enhances the following:


Process speed – because requests are contained in one platform, with automated reminders and tasks, collaborators move through individual steps in a workflow more easily. Requests for equipment can be made fast and approved quickly, with minimal delay to the projects involved.
Shared accountability – with a single source of truth, accountability is organic. Process collaborators can see exactly where a process is at, and who is responsible for the next stage.
Easy auditing – following a manual trail of requests – or worse, a paper-trail – can leave auditors gasping for air. A single platform, like

FlowForma Process Automation

, keeps all process data in one place, for simple tracking and reporting. With easy reporting and auditing, collaborators can keep track of requests, who processed them, and which are still due to be approved.
Process accuracy – digital forms, with prerequisite data fields, minimize the risk of data inaccuracy. With data fields, users don't have to log information manually, and data can't be misinterpreted later in the process. This ensures that requests are accurate, and the right equipment is secured.
2. Low Code or No Code?
What's the difference between no code and low code when it comes to oil and gas automation software?
While low code tools provide most software functionality, such as the interface itself, these systems still require support from IT teams and developers to build out processes. This means coding skill is necessary for business to implement and deploy low code tools.
No code tools, on the other hand, are designed to provide powerful software development to non-technical developers, with negligible support from IT teams. Once trained – and automation vendors like FlowForma offer hands-on training and onboarding for clients – non-technical employees are equipped to build out digital workflows themselves.
Which Is Better For Oil and Gas?
To meet the urgent challenges of the oil and gas sector, businesses should look towards no code tools. Training courses for no code oil and gas automation software typically take a couple of days. And from there, employees can quickly build out automated digital workflows themselves.
Tools like FlowForma Process Automation can be up and running – and delivering an ROI – in as little as six weeks. If your business is looking to manage your workflows better and reduce the cost of operations, a no code tool will help you meet these goals quickly – ensuring you stay competitive within the oil and gas sector.
Example: Dresser Overhauls Legacy System With No Code Automation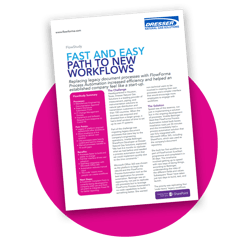 FlowForma helped Dresser Natural Gas Solutions, a leading natural gas provider in the US, slash costs across projects and migrate their legacy systems to an automated platform.
When the business was acquired from a larger group, it had a brief window to update its legacy systems.
"We had 4-6 months to replicate what we had before and needed a process automation tool that we could implement quickly due to time constraints." - Imelda Bettinger, SharePoint Developer, Dresser Natural Gas Solutions.
Since speed was of the essence, the business opted for FlowForma's no code automation tool. FlowForma Process Automation was an ideal fit for a wide range of use cases, including:


Manufacturer Engineering Documentation Approval

Patent Disclosure Submission Form

IT Change Management Process

Equipment and Software Request Form (response to Covid-19)
Installation took just 30 minutes, and the team immediately had a process automation solution that was fully integrated with Microsoft O365, including SharePoint. From there, the team could build out their own workflows and refine processes across the company.
Read the full Dresser Natural Gas Solutions case study
3. Decide Which Use Cases
When it comes to oil and gas automation software, how far can this technology take you? How many processes can you automate?
Almost any workflow can be automated. Some companies have a specific idea of which processes they'd like to automate, while others aren't sure (but know the technology delivers an ROI).
If you want to embrace the unlimited possibilities of this technology – and deliver widescale automation – here's a list of use cases from a range of business units to get you started: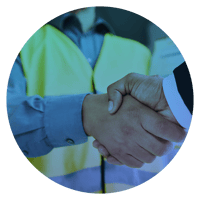 Employee Onboarding
If you're looking to reduce the administration involved in onboarding, automation is ideal. The drag-and-drop interface within FlowForma Process Automation allows you to design your own workflows. From there, the platform will provide visibility over onboarding processes (useful for multiple staff), provide reminders, and take on the bulk of administrative duties. For example, with e-signatures and digital forms, contracts are no longer paper-based and don't have to be posted manually.
Health & Safety
Health and safety processes are, still, vastly inefficient. In the oil and gas sector, many businesses still rely on paper and manual systems, including Microsoft Word documents, spreadsheets, and questionnaires. Typically, they're handled in face-to-face exchanges that involve multi collaborators. Digitalized forms and a central platform for all data (which you find in process automation tools) bring new efficiencies to these workflows. The structured processes hold collaborators accountable and help your business meet regulatory requirements around health & safety.
Performance Management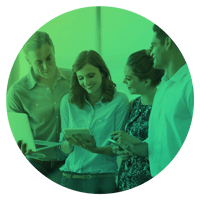 Performance reviews rely, too often, on inefficient processes. Reviews can be time-consuming, involving the collation of feedback from managers using manual documents and emails. When this back-and-forth process happens repeatedly, for every staff member in a company, it begins to sap valuable time from managers and HR employees. Process automation tools, like FlowForma's, streamline this process, use automated reminders to prompt feedback, and structured digital workflows to nudge collaborators through the process. All feedback is collated automatically in a single platform, giving a single, one-pane source of truth.
Refine Oil and Gas Processes with Automation
Oil and gas automation software brings huge benefits to this sector. It helps businesses remain competitive, with streamlined, efficient processes that – crucially – cut costs. It also helps employees wade through administration-heavy duties, including health and safety checks and reporting, auditing, HR-specific tasks, and equipment requisition.
The oil and gas industry is – like crude elements themselves – under hot, intense pressure. The pressure to operate cleanly. The pressure to meet global consumer demand. The pressure to trim down fatty and inefficient production lines. Oil and gas automation software tackles the processes themselves, shining a light on inefficiencies, and offering quick, cost-effective, and more collaborative ways of working. With persistent challenges rising to the fore, it's time for this sector to adapt.
To learn more about how no code automation software can help your oil and gas organization flourish, get in contact with FlowForma today.
Sign up for a free 14 day trial