Read this blog to find out how our SureStart program can maximise your investment...
If you have ever been part of a software implementation project, you'll know how challenging it can be. But it doesn't have to be difficult.
Here at FlowForma we have helped many clients implement processes. We understand that you're busy. We understand that you need quick results. And we understand that you want to keep cost down.
Based on our vast experience we've come up with the FlowForma SureStart program. We want to ensure you get up and running with FlowForma quickly, so you can see the benefits. Rather than spending 9-12 months on a complex process before you see any results, we spend 5 days within a 2-3 month period working with you on a relatively simple process.
It's important we pick the right process to start with, and all stakeholders need to be available to participate. The physical location is irrelevant, as we can do all work virtually. Of course there are variations in how each process is defined and implemented, but the general idea is typically the same.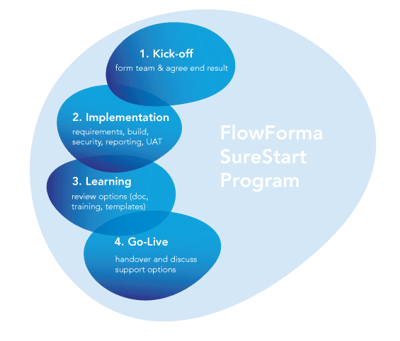 Fig 1:

The FlowForma SureStart 4-Step Program

The 4-phased approach looks like this:
1. Kick-off
We need a place to start, so during the kick-off meeting we form the team and agree the high-level deliverables. We won't dwell on the process details; we'll leave that for the next phase.
2. Implementation
It's time to let one of our FlowForma analysts and your various business step owners thrash out the detail. We'll work through the requirements and start the build. We evaluate along the way, and we usually go through 2 or 3 iterations before the process is complete.
Once the main process is built, we look at reporting and security, and before you know it, it's time for UAT - User Acceptance Testing. We might agree minor tweaks after UAT, but the core bones of the process are locked down at this point.
3. Learning
We know you might want your independence, and it's our goal to make you completely self-sufficient, so you can implement other processes without our involvement. To facilitate that, we offer training courses ("real" classroom training sessions or virtual training sessions), you can use our online documentation linked directly from the FlowForma product, and you can let Paige Turner guide you in our video tutorials. We'll review the options with you and agree what works best for you.
4. Go-live
It's time! We know you'll miss us, but at this final stage we hand over the project to you. As you've been involved every step of the way, there won't be any big mysteries, but we still want to ensure you know exactly what's been built and where you can find everything. We'll also discuss support options with you, in case you need our help in the future. We're never far away.

By availing of the SureStart Program, we will work alongside you to make sure you get the most out of your investment in the least amount of time.

Download our brochure or contact us directly for more information about the SureStart program.