In today's world of digital transformation, the key focus of companies has shifted, from cost saving initiatives as a primary driver, to enabling their people to do more through the successful adoption of digital technologies.
What is driving this shift? Two drivers to this as I see it:


internal driver - the demands of our internal millennial workforce

external driver - the increasing demands of our customers and their experience with us.
Customer Experience
So, let's focus in on customer experience (CX). What are we seeing in the world of digital process automation that is adding real value in this space?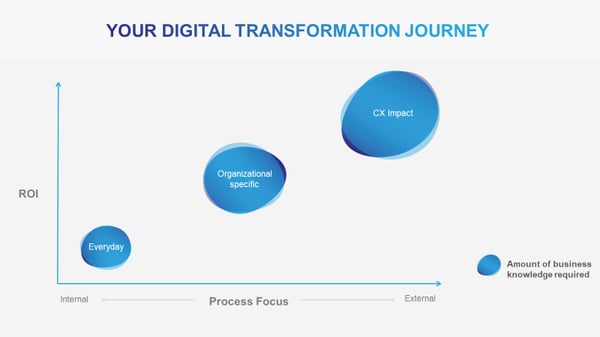 Fig. 1 Everyday processes are departmental, internally focused such as HR, IT and Finance processes; Organizational specific processes relate to your business/industry, requires deeper business knowledge and are internally focused on operational processes such as Disaster Recovery, Auditing etc.; CX Impact processes are enterprise wide, connecting securely to your customers/partners to support strategic initiatives.
CX Impact Processes, as we at FlowForma describe them, drive high-value business impact. Ideally, they'll start out in a secure portal, connecting to your customers and then weaving through your back-office (e.g. ERP) and front-office systems (e.g. CRM) - solving specific customer journey problems that your 'packaged' software just doesn't address (or at a minimum, not in a cost-efficient manner).
So, think about where in your organization these processes exist that connect to your customers, either directly or indirectly, and how you can lift their experience.
The Domino Effect
Our customers are leveraging our technology platform to enhance these experiences several times over, from Order Management through to Insurance Renewals and Patient Care. Even processes you think may not impact your customer are indirectly affecting them, such as Product Innovation, Talent Management and Incident Management.
As you move into solving these problems you'll find that these are business knowledge intensive, so you need to arm your business community with the tools to build, test, learn and roll-out to maximize the results, with IT providing the guardrails of course.
FlowForma can help you do exactly this. Find out more by taking a demo with one of our product specialists, or take a 30-day free trial.
Don't Miss Our Upcoming Webinar!
Please note this webinar took place on April 19th - click here to access the webinar recording.
To get a better understanding of this concept, join us for our upcoming webinar on April 19th with our guest speaker Forrester Vice President and Principal Analyst, Rob Koplowitz for an exclusive webinar, as he provides insights from his research and upcoming report on the emerging middle ground between low code and traditional BPM.
You will also hear how companies such as Aon are using no code digital process automation, to power processes that drive positive customer experiences for e.g. fact finding and contractor onboarding.