Hi all

I've just completed my first e-Diary, which I'm delighted to share with you!
Before you download...
I thought I'd quickly share with you my reasons behind creating it!

So I recently attended a conference in the States, at which I shared insights into how the lightening speed of the FlowForma Process Automation tool, empowers business users to prototype, test and ultimately launch their own Processes in hours, with absolutely no coding required!
It's true... but to practice what I preach, I set myself a challenge, to build out a rather complex process (Tender Process), including decision making functionality, all in one morning.

Eager to demonstrate, how you too can deploy processes in hours, I decided to document how I brought the ever-challenging Tender Process online including: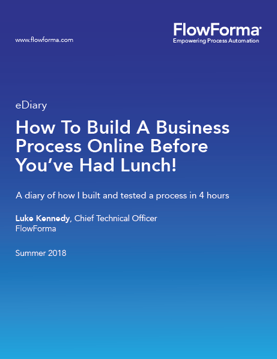 • capturing the details of the project
• approving the Tender
• adding submitted proposals
• enabling the panel to apply proposal scores against each requirement
• awarding the winner
So that's the inspiration for my first e-Diary, which you can read here, it's a quick 7-minute read.

I hope you enjoy and get inspired to set your own process challenge. Feel free to set me another challenge, by commenting below!

Why not take a demo of our product and see for yourself how you too can save valuable time by automating your processes (from the simple every day to the more complex).