Like all projects/tasks we undertake in life, at the outset you have a picture in your head of what you're going to achieve. It seems so easy. But did you look at the detail yet? Did you prepare a strategy for how you're going to reach the end-result?
Let's use our new office puzzle to look at the different approaches. Remember, a lot of the puzzle pieces will fit together if forced to, but they won't result in the picture you had in mind.
Here at FlowForma, we have assisted hundreds of users in automating their processes. Whilst we have a preferred approach, it's not the only approach that will deliver the end result. So why does it even matter where we start? Well, most of us are busy and would like to see a return on investment as quickly as possible. That's why it matters.
Tip 1: Build Your Process Automation Team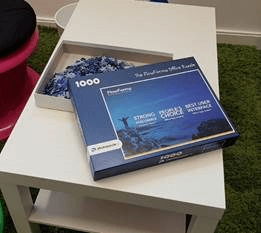 Let's look at forming the team first. Some might have volunteered; others might have been voluntold. You need to make room for all of them in the project to ensure their buy-in.
For example:


Joan works in sales and needs something that'll quickly show off the potential.

Mike works in support. He'll look for that missing piece.

Adam onboards new customers. He's all about building the foundation, planning the work, and adding the detail a bit at a time.

We've also invited Erica. She's a developer. Not afraid to try, and ready to take a step back, if necessary.
The four members of our team all need something from this project. We ask them to look at what they want the end result to be. Again, let's look at the puzzle as an example. According to the box, it's a beautiful picture made up of 1,000 pieces. With only four members on the team, it's going to take a bit of time to complete this project. That's helpful to know, to avoid disappointment in a week when the project isn't complete.
Tip 2: Create A Prototype Of Your Processes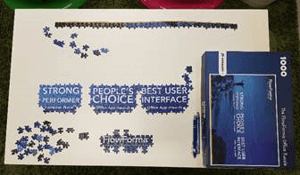 Some components seem very clear to everyone. We might use one or two of those to build a small prototype. That'll make Joan happy, as she wants to show this off as quickly as possible.
Adam starts building the edge. Even though we have a picture in mind, we still need to set the boundaries. Imagine building lots of little components, only to realize the table isn't big enough?
When Mike points out the first edge doesn't match the picture, Erica moves it around. A few pieces break off in the process, but nothing she can't fix.
Imagine for a moment that Mike left the team. We might never have noticed the border was upside down, and we'd eventually force the remaining pieces to fit together. Or send Joan off on her holidays, and we'd have nothing to show off until the very end. I can go on, of course, but you get the picture. We need the right team and the right approach to reach quick results.
Tip 3: Replicate Your Process Success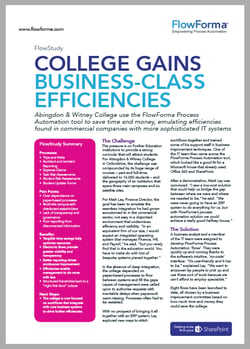 Adam works here at FlowForma. He has many names, and he's used to being part of various teams to lead the way. He'll share his knowledge with you, so you can replicate this over and over when he's moved on to other teams. Before you know it, paper-based processes are a thing of the past. And if you get stuck? Well, Mike works at FlowForma as well. He'll be most happy to help you find that missing piece.
Read how one FlowForma customer has overcome paper by moving their processes online to improve efficiency throughout the business, while saving a significant amount of time and money.
Why not set up a free consultation with one of our process experts. We can discuss your process pain points and how you can strive towards becoming a digital company, saving hours of admin and empowering your team to do, what they do best.