Businesses across industries have implemented new technologies to improve operational efficiency. They've done this, not only at scale, but rapidly – to the extent that some tools have almost completely replaced legacy systems. We call this digital acceleration.
Like the Cloud and AI tools, no code business process automation is being adopted at speed in the construction industry. Businesses are finding great value in construction process automation software, with tools that allow users to build out their own digital workflows with a drag-and-drop interface, execute processes automatically and at speed, and generate detailed reports to help users optimize their workflows.
No code automation accelerates construction projects and helps users to execute processes with better accuracy and collaboration. The best news? It can be used for almost any business process. Here's some business process automation use cases to get you started, looking specifically at construction.
HR: Employee Onboarding and Offboarding
Anyone involved in employee onboarding and offboarding knows – it's a struggle. The onboarding process in particular is long (sometimes taking up to a year), and there are multiple steps, that include preparing for the new hire, completing paperwork, providing training, and offering follow-up and support. Often these are paper and email dependent (contract exchange), manual, and therefore difficult to keep track of and manage. Business process automation solves all of this.
HR process automation software and workflow management is, for HR employees, a real game-changer. The drag-and-drop interface allows you to design your own workflow. Exactly as you want it. From there, it provides reminders, takes on the bulk of administrative duties, and helps HR staff multitask. It also protects sensitive data – and there's a lot of sensitive data in onboarding tasks – using a secure cloud-based environment. Using manual paper-based or Word documents increases the risk for non-compliance and legal issues down the line.
Benefits of automation for employee onboarding also include:


Speed – process automation fast-tracks steps across the onboarding process.
Multi-tasking – automation allows HR staff to execute multiple steps at once.
Reduce operational costs – onboarding is a lengthy and complicated operation. Automating and streamlining it frees up HR staff time (reducing costs long-term).
No paperwork – automation transfers processes online. Contracts can be processed digitally using e-signatures, and collaborators can be nudged with automated reminders.
High-value work – automation is very good at administrative, rote tasks. For HR staff, this means more time to do more.
Morgan Construction Takes Control of The Onboarding Process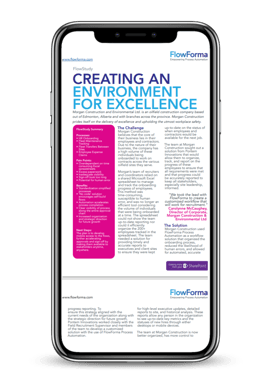 Onboarding in construction is a complicated and ongoing process. Onboard one contractor, or employee, and another one springs up. Morgan Construction couldn't operate without their continuous stream of contractors and new employees – but they struggled with the onboarding process. It was completely paper-based, with no visibility across its stages and (because of this) mistakes made along the way. Something needed to change.
The Solution
FlowForma Process Automation was more than a solution for Morgan Construction. It offered a chance for growth – a complete overhaul of existing processes. Because of no code process automation, their HR team is now:


Ultra-organized

In control (able to prevent manual errors)

Able to execute tasks quickly
Rather than an Excel spreadsheet, Morgan Construction uses a digital form dedicated to each employee being onboarded, with automated fields and prompts, and automatic reporting functionality (involving all collaborators and stakeholders).
There is no more "back and forth", manual updates using spreadsheets, and – best of all – any collaborator can see the onboarding status of new hires. With FlowForma Process Automation, Morgan Construction discovered a single source of truth. Learn more about our road construction software.
Read the full Morgan Construction case study: Creating An Environment For Excellence
Health & Safety
What does "safe" mean for your business?
For most of us it means security. A risk-free workplace. Safety processes that are preventative rather than palliative.
If we know that manual processes lead to mistakes (almost 90% of spreadsheets have errors), for health & safety processes they just can't be used. Systems for executing these processes need to be watertight. Data must be interoperable. Opportunities for spotting mistakes should be automatic, and happen by default, rather than relying on manual, human methods.
This is where process automation comes in.
How does automation solve health & safety issues?
Picture the scene. You're a construction business owner, with hundreds of contractors working for you. Every build has its own set of challenges, and health and safety is top of the list. A recent Construction Dive survey shows that over half (59%) view health & safety processes as an urgent priority for automation.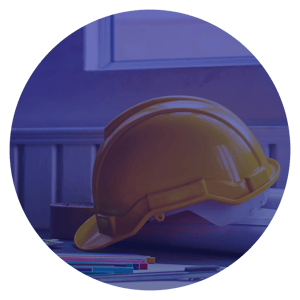 A range of factors come into play in the construction sector, from managing and risk-assessing hazardous sites, to reporting on incidents, providing employee training, ensuring compliance with government regulations, and emergency preparedness for accidents. With process automation, health and safety concerns are managed more effectively, using near real-time data and compliant workflows for better outcomes overall.
Health & safety workflows, using FlowForma Process Automation, include:


Incident reporting workflow – report and track incidents in real-time.
Risk assessment workflow – identify and assess potential risks. Prerequisite fields minimize risk of wrong data entry.
Safety audit workflow – automate the process of scheduling audits, conducting inspections, and generating actions from these.
And the benefits? Apart from better safety outcomes on construction sites, process automation offers:


Better governance – audits are easier to execute with a single source of truth.
Accountability – process visibility means seeing who did what.
Project oversight – mistakes caught more easily and quickly, with a one-pane view.
Opportunities for improvement – reporting helps identify what went wrong.
BIM compliance – tools like FlowForma Process Automation ensure construction businesses stay BIM compliant.
Finance
Everyday finance processes are largely administrative. They rely on manual tools, like spreadsheets, to manage financial data and information. The bad news? Spreadsheets are rife with error, and lead to a lot of – well – trouble. Since they require manual data entry, their accuracy falls to the human inputting the data. And, as it turns out, human beings just aren't that accurate.
The good news? Automating financial data entry is a good way to safeguard information. Many tools integrate with other systems, allowing you to import data and automatically spot inconsistencies, mistakes, and monitor for fraud. Business process automation software for financial services are able to integrate with over 500 applications, including your spreadsheets, making your financial data interoperable.
Want an automation solution that connects to your existing applications? Get in touch today.
Automation doesn't just ensure data accuracy. It helps finance teams manage a whole spectrum of processes, including:


Invoice processing

Contract management

Finance approvals

CAPEX requests

Procurement

Supplier onboarding (any kind of onboarding)

Time sheets
Operational Performance
Operations look a little different these days. More than three quarters of companies (78% in 2022) have embraced hybrid/remote working, meaning that teams are dispersed – sometimes across continents. To keep operations running smoothly, and collaboration quick and transparent, operations teams are relying more and more on automation tools.
One of the companies impacted by COVID-19 was CVB JW Tideway East, a construction company with a lot of sites and a widely distributed workforce. Communication was a challenge, and the business needed a new way to speed up processes for multi-site construction projects.
With FlowForma process automation, they tackled processes one by one. First – Starter/ Leaver forms, followed by Daily Site Diaries. Both processes were smoothly transitioned to process automation, saving 700 hours on repetitive tasks by automating within one year of use.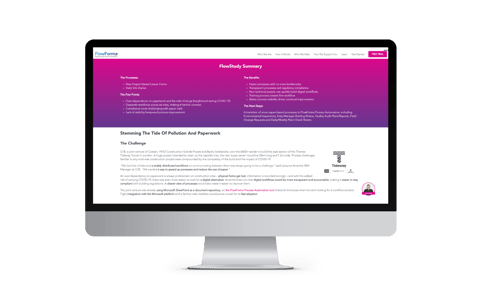 Read the full CVB JV Tideway East case study: Stemming The Tide Of Pollution And Paperwork
Enhanced Data and Analytics
The devil's in the detail. Or in the data, as it goes.
Businesses experience a 20% revenue growth from insight-driven decision-making. Despite this, only a fraction of construction companies effectively use data available to them. If processes are manually completed, or exist outside of the digital realm, business leaders are missing a crucial opportunity – to learn more about their business, to identify problems (and make the necessary changes) and build strategies based in substance.
Within the construction industry, we call this connected construction. And it's important for a number of reasons:


The construction industry is unique in the way its projects are executed. A typical project is – well – not typical. Each project has its own set of requirements and involves a lot of independent contractors and subcontractors.

Construction projects are fragmented across the value chain. Each project stage is like a separate project in itself and data can be lost when moving through each stage.

Construction sites are often remote and do not have access to the internet. Using technology on-site is either too difficult or not an option at all.
How does process automation help?
Crucially, by providing a one-pane project view. Whether you're a newly onboarded contractor or a collaborator at the project's completion, process automation tools provide near real-time visibility into progress. Collaborators, with access to powerful project data, can make smarter, faster, and better-informed decisions – right across a project's lifecycle. With automation tools, data flows smoothly, bottlenecks are identified quickly, and reports are generated with the click of a button.
The outcome? A leaner, more resilient construction business in 2023.
Get The Most Out of Process Automation
The world of work is changing. Businesses are relying more on technology to execute administrative, manual processes (freeing up time for higher value work). Almost any process, across any industry, can be automated in part. And the benefits are far-reaching, from better compliance and governance, less paperwork, operational lubrication, and a big (sometimes bigger than big) reduction in cost.
As the saying goes, you have the tools. (Or we do). Digitalize your processes in-house, and discover a competitive advantage, with FlowForma Process Automation.
Sign up for a free 14 day trial.