I am a big fan of the cloud. It's so easy to get up and running and start consuming those services!
However, occasionally, businesses may need to supplement their cloud infrastructure with additional on-premise infrastructure. This can be for many reasons, for example:
- regulatory compliance,
- enabling anonymous access,
- catering for periods of high demand.
There are other reasons too; every company has different operational requirements.
The term 'hybrid' refers to those scenarios where different infrastructures, with different levels of control, are managed together. Hybrid infrastructure can be used to deliver maximum performance and facilitate regulatory compliance, to ultimately satisfy the operational requirements of the business.
Hybrid infrastructures are common when organizations first sign-up to cloud services. It takes time for an organization to move all of its on-premise content from one environment to another. Think of an intranet with many different departmental sites and sites that are specific to subject areas. It is a major undertaking to move all of the content at once, while at the same time ensuring that all of the operational requirements are met. A gentler migration, where parts of the business continue to use on-premise infrastructure for a period of time, results in less risk and less up-front effort. Hybrid infrastructure allows you to move at your own pace.
SharePoint supports hybrid installations out-of-the-box, which is easiest between SharePoint 2016 and SharePoint Online (Office 365). These out-of-the-box features are great when you need to share content across your hybrid environment. There are limitations, of course, and you may require third party products to migrate content when needed.
Unfortunately, workflow is one of those things that is very difficult to do in hybrid scenarios - unless you use FlowForma BPM! FlowForma BPM forms can talk to each other via secure web services, regardless of where they are running. A workflow can begin on-premise and end online, or pass between environments many times before completion.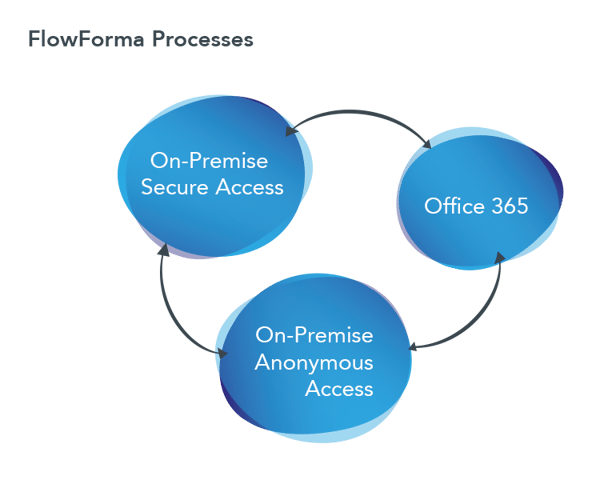 Our no code business rules allow you to push data and documents from one form to another, at any point in the workflow, across your hybrid infrastructure. You can easily configure dependencies between multiple workflows, so that different business units accessing your hybrid environment can collaborate effectively with transparent integration.
Try FlowForma BPM by signing up to a trial or contacting one of our consultants for advice on how to achieve maximum value from your hybrid environment!
Please Note: SharePoint running on an on-premise farm cannot exchange data with SharePoint Online without using third party tools.