"With great power, comes great responsibility".
This is one of my favorite quotes from the Spiderman comics and it's a nice theme for a blog on one of my favorite features of FlowForma DPA - The Visual Flow Designer.
The Visual Flow Designer is one of the most powerful features of FlowForma DPA, it allows business users to visually create their processes, using a visual representation of their process. Not only can you create new processes but users can open existing processes created in earlier versions of FlowForma DPA and see a visual representation of their process.
Empowering Process Owners
Visual Flow Designer does not use complex BPMN notation, it follows FlowForma's simple language of steps: "What is the first step in your process? What is the next step in your process?"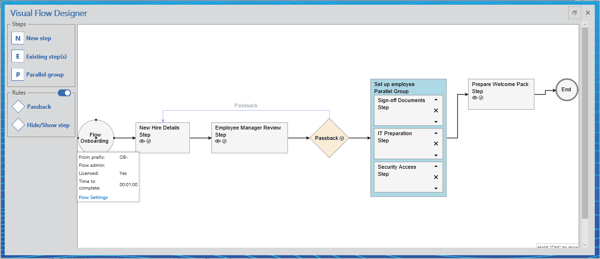 Fig 1. FlowForma Rule Designer
The phase of the design is the information captured at each step of your process, these are the questions: "What information is captured at this step?"
The third part of designing the process are the rules that guide your process from one step to another. Rules such as if an e-Capex amount is greater than €1,000, then display a 'Chief Financial Officer (CFO) Approval Step' as well as the 'Manager Approval Step'.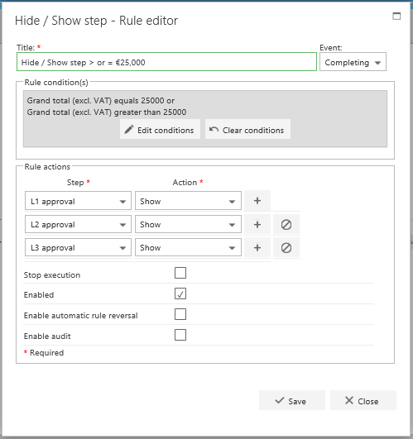 Fig 2. FlowForma Step Builder
Easy Adaption of Processes
With this powerful tool there is a significant amount of responsibility on the Process Designer as they are now the Process Owner by virtue as they have designed, built and implemented a process that they know and the business will use. It is now the Process Owners responsibility to update and change that process in line with the business needs.
Influences like General Data Protection Regulation (GDPR) and Brexit require businesses to own their business processes without the need for bringing in external parties and pushing the change of a process through a lengthy Software Development Life Cycle (SDLC). All business processes should be quickly adaptable to these types of changes. Having the changes implemented by the business owner cuts down on cost and risk of change requirements being lost, when translated into technical requirements.
Another powerful feature of the Visual Flow Designer is the process document generator. This feature will document the process in its entirety, allowing business owners to make changes and then generate a document for audit.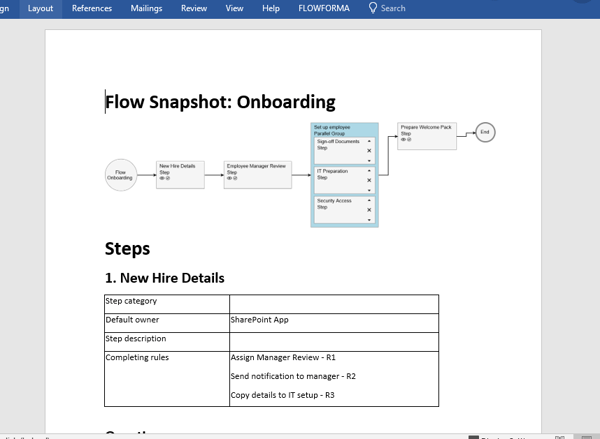 Fig 3. FlowForma Document Generation.
As you can see it is the reversal of the lengthy SDLC, it empowers business owners to take control of their processes.
To learn more about FlowForma DPA's Visual Flow Designer functionality, talk to one of our product experts or why not try a 30-day free trial.