A new season brings about new opportunities and we at FlowForma have been hard at work to deliver the best process automation content and resources to further your digital journey. Let the leaves be the only thing that fall behind this Autumn by gaining a competitive advantage with FlowForma's rapid, 100% no code process automation tool proven to increase efficiency and productivity!
Our Customer Success team have onboarded some inspiring new customers, and our R&D team have released some incredible new features - like our new Process Validator, Process Assistant, and Process Building Blocks, used to further empower our community of businesspeople. If you'd like to hear about our new reporting features, DocuSign integration, or our process health checker – simply book your 14-day free trial today!
Over the coming months, we are looking forward to bringing you some exciting events with tips, tricks, and treats to support you on your process automation journey.
Here's some of our new content to help you accelerate your process automation journey:
AIIM Tip Sheet: Stop Delaying Digitization!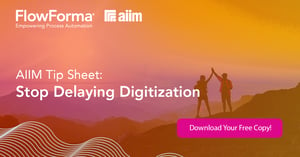 The benefits of process automation are obvious, but many organizations have yet to make significant inroads on their efforts to digitize their processes. Paper and email continue to be a burden in many key business processes. The cost is significant.
Download this new tip sheet, created by AIIM, in partnership with FlowForma, that shares the cost associated with digitizing, and how you can overcome this.
Download Your Complimentary Copy!
Webinar Recording: Prepare for the Future Growth of Construction by Adopting Digital Working and Process Automation!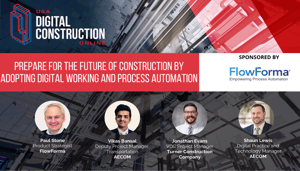 On Sept 22, FlowForma hosted a construction-focused panel discussion, where our Product Strategist, Paul Stone was joined by Shaun Lewis, Digital Practice & Technology Manager at AECOM, Vikas Bansal, Deputy Project Manager at AECOM, and Jonathan Evans, VDC Project Manager at Turner Construction.

Hear the panellists discuss the importance of digitization and share tips on how they are transforming day-to-day construction processes by embracing digital tools.
Exclusive Forrester Report: Citizen Developer Programs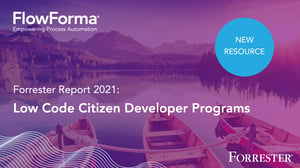 FlowForma brings you an exclusive report where Forrester Analysts highlight the importance of citizen/business developer, explain the best practice approaches, and share their expert tips and advice for governing such programs
Trending Topic: 3 Ways to Accelerate Digital Transformation in the Construction Industry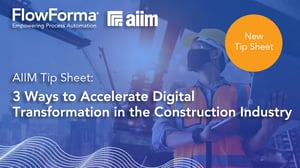 Construction organizations of all sizes and types are under increasing pressure to digitally transform. As the race to define success in 'the new norm' heats up, organizations that continue to rely on last-century ways of working risk being left in the cold by their more nimble, digitally-transformed competitors.
Download this new tip sheet, created by AIIM, in partnership with FlowForma, that shares three ways for construction organizations to automate and accelerate digitization.
New Resource: The Benefits Of No Code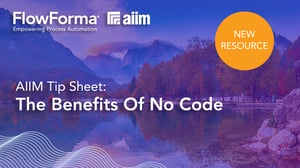 Organizations today are doubling-down on digital transformation. The opportunity is here to adopt technologies and workflows that speed the pace of business, eliminate process inefficiencies, and provide a level of customer experience that creates competitive advantage.
Read the tip sheet created by AIIM, in partnership with FlowForma, that shares the benefits of no code process automation for enabling rapid automation and accelerated digitization.
BPM Live Webinar Recording: 'How Process Automation Cured Process Pains For AC Immune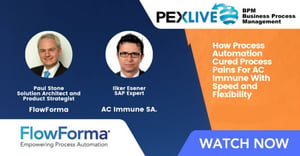 On Sept 28, FlowForma participated in this year's PEX Network BPM Live Online Event! Paul Stone, Solution Architect at FlowForma hosted an exciting online webinar where he interviewed Ilker Esener, SAP Expert at AC Immune to explore how process automation cured process pains for AC Immune with speed and flexibility.
Watch The On-Demand Recording!
Product Feature: New FlowForma Product Features!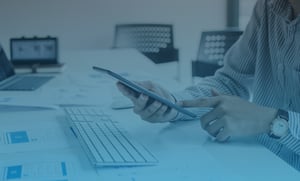 This quarter, we launched several new product features to further empower businesspeople to rapidly digitize processes with enriched speed and agility.
Read about our new Process Assistant, created to give users additional support during the building of their digital business processes, our Process Validator to speed up testing, our Process Building Blocks that allow users to re-use steps designed and created in a previously built digital process, and more of our latest features today!
Learn More About Our Latest Features!
Want to Learn More?
Hopefully, the above resources will benefit you greatly in your process automation journey. Follow FlowForma on LinkedIn, Twitter, and Facebook to stay notified of the new and exciting content from FlowForma.
Have any further questions about how process automation can empower your organization? Book a demo with one of our experts. Additionally, you can try a free 14-day trial of our process automation tool no credit card, no commitment, no code!