As the weather heats up, so does our process automation content and resources! This Summer, you can relax and go with the flow, knowing that you can digitize with ease using FlowForma's rapid 100% no-code tool to quickly implement your processes to increase efficiency and productivity!
Here at FlowForma, we're full of energy! Our Customer Success team is onboarding some very inspiring new customers, and our R&D team are releasing some incredible new features - like our new Construction Process Accelerator used to further empower our citizen developer community. If you'd like to hear about our new reporting, DocuSign integration, process health checker, or process assistant – simply book a demo with one of our specialists.
This Summer, we are looking forward to bringing you some exciting online events with tips, tricks, and advice to help you on your process automation journey. Below I've compiled helpful links to some of our recent and upcoming content.
Workshop Recording: Digitize A Process In Under 1 Hour!
On June 2, FlowForma hosted a complimentary workshop to highlight how easily and rapidly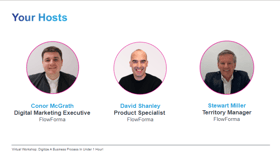 business processes may be digitized with the FlowForma Process Automation tool.
Watch this workshop recording to see FlowForma's Product Specialist, David Shanley, and Territory Manager, Stewart Miller, digitize an onboarding process in less than 1 hour using the FlowForma Process Automation tool. Gain tips and tricks from our experts for the acceleration of your automation journey.
Watch the Workshop Recording Now!
Healthcare Infographic: Your Guide to 2021 Process Digitization
Download our latest infographic based on industry research and customer insights, to drive digital transformation in your healthcare organization and highlight how you can rapidly automate processes to drive productivity and better patient experiences with FlowForma.

Highlights include survey statistics regarding healthcare process challenges and how to overcome them, tips on how to get started, a useful process automation timeline, and ROI stats from those who have successfully digitized.
Upcoming Webinar - Process Automation Trends Uncovered By Forrester's John Bratincevic
No code digitization tools and forward-thinking automation are in high demand by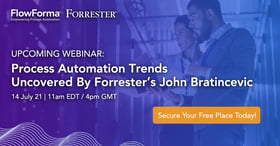 organizations who want to digitize at scale, serve remote workers and drive operational efficiencies. With paperless and hybrid offices becoming the norm and the importance of collaboration and customer experiences being at an all time high, the business community have many questions as to how to accelerate process automation and generate quick return.

Join us on July 14, to see these trends discussed with expert tips and tricks on how to maximize your automation results.
Secure Your Place Here!
Trending Topic - Driving Process Automation Results In Education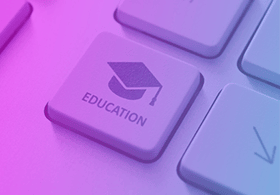 It's no exaggeration to say digital transformation within the education sector has changed more in the last 18 months than it has in the previous 18 years, in what many would even describe as a digital revolution within the education sector.
Read the full article to understand the current challenges in the education sector and to learn how you may best combat them and drive results through process automation.
Product Feature: Meet The New FlowForma Construction Process Accelerator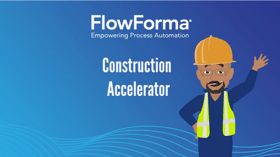 FlowForma, the leading provider of enterprise-class, no code Process Automation tools for Microsoft Office 365, has unveiled its Construction Process Accelerator, to further support businesspeople in the construction sector, to rapidly digitize business processes with speed and flexibility.
The ready-to-use, fully adaptable Construction Process Accelerator features process templates for addressing tasks such as Field Change Request, Concrete Pre-Pour Check Sheet, Labour Requisition, Materials Requisition, Hot Work Permit, Safety Observation, and more.
Find Out More About The Construction Process Accelerator!
Want to Learn More?
Hopefully, the above resources will benefit you greatly in your process automation journey. Follow FlowForma on LinkedIn, Twitter, and Facebook to stay notified of the exciting content that FlowForma strives to produce in the future.
Have any further questions about how process automation can empower your organization? Book a demo with one of our experts. Additionally, you can try a free 14-day trial of our process automation tool no credit card, no commitment, no code!