As the evenings are getting brighter, you might start to notice that now is the perfect time for change. No, I'm not just talking about the flowers blooming and the (slightly) better weather: it is the perfect time to transform your business! At FlowForma, we have been developing new features and creating enriching content to help you spread your wings and soar through your process automation journey... five times faster than any other tool on the market!
We have recently gained much industry recognition such as our G2 Momentum Leader and High Performer awards, being recognized as a 'Top 10 Construction Tech Solution Provider' by MyTechMag, and being identified as 'Changing The Way Construction Works' by National Highways.
In this blog post, we hope to put a spring in your step with our latest content to help further launch your process automation journey...
2022 Guide: Why It's Vital To Advance Your Process Automation Plan & How To Triumph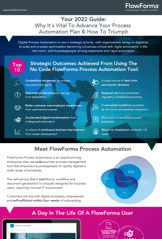 Digital Process Automation is now a strategic priority, with organizations racing to digitalize at scale and process optimization becoming a business-critical skill. Agile automation is the new norm, with businesspeople driving responsive and rapid automation.
Access your strategic guide on why it's vital to advance your process automation plan and how to triumph.
Download Your Complimentary Copy!
Webinar Recording: How Great North Equipment Overcame Manual Processes with Widespread Automation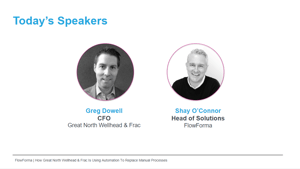 We recently held a webinar alongside FlowForma customer, Greg Dowell, CFO at Great North Equipment, and Shay O'Connor, Head of Solutions at FlowForma. They shared how the fastest-growing wellhead and frac company in Western Canada is achieving widespread adoption of process automation by digitizing processes such as Risk Assessment, Incident Reporting, Onboarding, Offboarding, and more!

Watch this webinar recording to hear how to tackle digitization in construction and manufacturing and how to remove manual daily tasks with no code process automation.
New eBook: An Innovators Guide To No Code Digitization And Improvement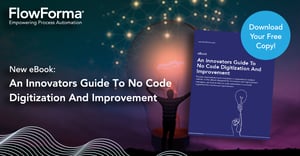 Our latest eBook explains how to overcome the challenges that innovators face on their automation journey. Understand how no code—not low code—tools drive organization-wide transformation and are a crucial ingredient in establishing a culture of continuous improvement and delivery of associated time savings.
FlowForma Recognized as a 'Top 10 Construction Tech Solution Providers of 2021/22'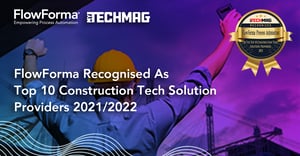 We are delighted to announce that FlowForma, the leading provider of Process Automation tools for Microsoft Office 365 has been named as one of the top 10 leading construction tech solution providers for 2021/22!
New Blog: How Automating Your First Process Creates A Culture Of Continuous Improvement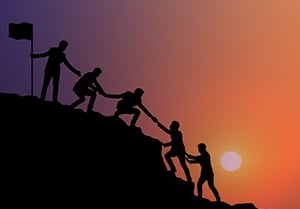 What if digitizing one process could transform your entire organization? It sounds like the stuff of fairy tales, but with no code automation solutions, it is possible. And we have the evidence to prove it.

In this blog, we explore how an investment in no code process automation can bring about immediate ROI and produce massive cost savings, as well as bring about a culture of innovation and continuous process improvement across the wider business. Now that's transformative.
Workshop Recording: Digitize A Check Sheet Process In Under 1 Hour!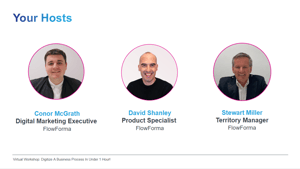 On March 22, FlowForma's Interactive Workshop came back due to popular demand. In this workshop, FlowForma's Product Specialist, David Shanley, and Territory Manager, Stewart Miller, digitized a business process of the audiences' choice (check sheet process) in less than 1 hour using the FlowForma Process Automation tool.

If you are responsible for digital transformation in your organization, then this webinar recording is a must-watch!
Want to Learn More?
Hopefully, the above resources will benefit you greatly in your process automation journey. Follow FlowForma on LinkedIn, Twitter, and Facebook to stay notified of the new and exciting content from FlowForma.
Have any further questions about how process automation can empower your organization? Book a demo with one of our experts. Additionally, you can try a free 14-day trial of our process automation tool with no credit card, no commitment, no code!