Large BPM sharks continue to bite down hard with high costs, as
organizations attempt to
implement a business process management solution, and truth be told you're underwhelmed with what your getting for your buck!
Limitations on the number of forms that can be created, to the number of workflows which can be carried out, added charges for document generation, and the need for partner assistance could all inflict a significant wound.
This has dissuaded executive management from supporting BPM initiatives. Everyone sees the prize, but no-one wants the pain.
But fear not, organizations can still achieve significant cost savings from digitizing their processes and improving productivity, after all there's plenty more fish in the sea!
Over time, software products have become available to make BPM easier and less risky but there is a catch - you would still need IT skills to build, deploy, and support your digitized processes.
IT skills are expensive and often in short supply, acting as a bottleneck in the realization of the benefits of BPM. Organizations often try to address IT skills shortages by outsourcing, which solves many problems while introducing new ones like contract negotiation and service level monitoring.
The Alternative
The latest wave of BPM tools takes a new approach - business led BPM. Business process owners can take control and digitize their processes using no-code BPM tools. With short training cycles, business users who understand the business needs can implement process automation themselves.
This greatly reduces costs and risk as the business users know what they want and also what they are getting. As a result their expectations are met through their direct involvement in the construction of the solution.
These solutions are deployed quickly too meaning that returns are achieved much faster than that of traditional, IT dependent solutions.


End of IT in BPM?
So, does that mean that IT are not needed anymore? No. IT are still there to manage the infrastructure, connect back office applications to the no-code platform and apply governance over no-code business development.
No-code business driven platforms are an important part of your future IT strategy. Don't take my word for it, there is a growing body of research recommending this approach. Certainly, through my experience with FlowForma, I have directly seen the savings in time and money that can be achieved on a large scale using business developers.
Need Rescuing?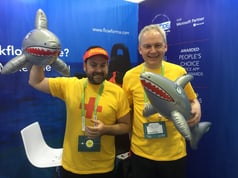 Download your complimentary copy of the Forrester Wave and see for yourself how you can succeed by using FlowForma as a no-code BPM platform.
Want to learn more about our no-code BPM tool? Why not take a free 30 day trial or book a demo and see our product in motion!