What scares you? Vampires, witches, werewolves, things that go bump in the night... or, perhaps worst of all, paper, excel and invisible processes? This year, tackle your monstrous processes with the power of process automation as a strategic survival imperative.
If you haven't yet digitized, listen carefully: Don't panic. Turn around slowly... I hate to have to tell you this, but there are a lot of skeletons in your closet and they are going to bury you alive under the mountain of processes that you haven't yet automated.

This Halloween, you have one mission: survival.
I said don't panic, you don't have much time to waste, we have to act fast. The fear of not reaping rewards can loom, but you have to trust me: our customers have tackled their monstrous processes to achieve scarily rapid results, with some seeing savings of over $80,000 per significant process, digitizing over 50 processes each year!
Survival Strategy #1:
Our spooktacular virtual workshop is back by popular demand: 'Digitize A Business Process In Under 1 Hour!' - it is a must join if you want your organization to survive.

On November 3, FlowForma invites you to take part in an upcoming interactive workshop, where FlowForma's David Shanley and Stewart Miller, will digitize a monstrous business process of your choice in less than 1 hour using the FlowForma Process Automation tool.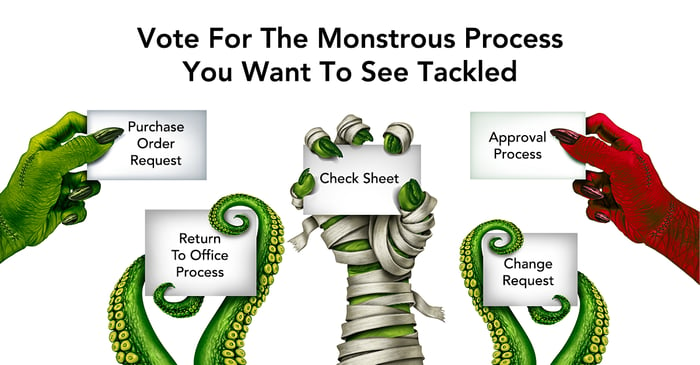 Survival Strategy #2:
You can't do this by yourself, in order to survive, you have to be part of a team. Find your Mystery Inc., your 'Losers Club', get the Ghostbusters together, this is not a job for one person. The idea of a big change within any enterprise can be frightening for all employees, but it can also bring employees closer together through learning new technologies collectively. Bear in mind, everyone is starting at the same point together.
In our latest report, Forrester Analysts highlight how the democratization of development is accelerating as enterprises are empowering non-IT workers to develop applications through business / citizen developer strategies using no code process automation tools.
Read the report to see how you can gather your team and defeat the monsters to survive.
Survival Strategy #3:
You have your team, you know what you have to do, now for the last stand. There is only one tool that can help you to come out on top: FlowForma Process Automation. Don't take chances with our competitors, we're proven to give the quickest ROI (G2 Crowd's Fall Report).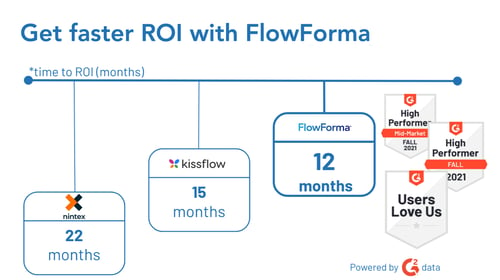 You've got this.
Scarily Fast Process Automation
Have a treat... no tricks attached. Don't get buried alive under a mountain of paper, start your digital transformation journey by visiting FlowForma's website to avail of your free 14-day trial no card, no commitment, no code!