Here at FlowForma, we're committed to helping our customers get the most out of their investment in the least amount of time. We have a whole process devoted to making this new beginning as painless as possible. We call it SureStart.
Over the course of the last 18 months or so in my role as Senior Product Analyst at FlowForma, I have seen varying degrees of readiness to begin this process. From those that are ready and raring to go, with diagrams and questions prepared, to those that are not entirely sure where they want to start. What I have found is that, when it comes to building their first processes, the level of IT skill has no impact on what the user can achieve.
Like the process itself, there are many ways that SureStart may progress. I have found that working with clients who already understand their process can be a great advantage, as this helps to speed up the implementation. This tends to be the person that has the greatest dealings with this process in its current format. When it comes to sitting down with them, they are ready to embrace anything that can make their life easier.
Supporting Your Process Automation Journey
Typically, the onboarding process begins with introductions. I introduce them to the FlowForma Process Automation tool, and they introduce me to the process they want to create first. This helps to build a greater understanding, not just of the process requirements, but it also helps to build a rapport with the client and a better understanding of what they hope to achieve.
The real implementation begins when the client creates their new flow. I don't mean we begin at the end, I mean they create the flow and name it. This is the container for the steps of their first process. This is where the well-prepared clients save time. Once the flow is created, we add the steps to the flow. In simplistic terms these steps represent the points that the process moves from one person to the next. It may be simply moving from one phase to the next, it all depends on the process.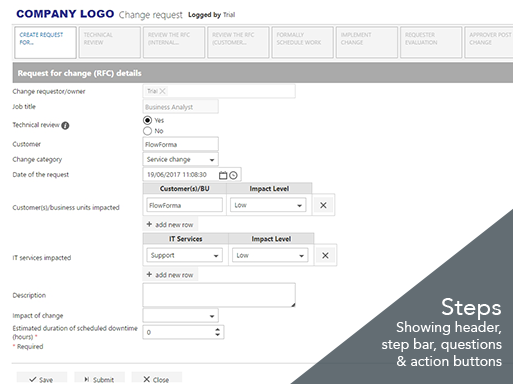 Fig 1. Steps featuring step bar, questions and action buttons
This can be the tricky part, where I'm not completely familiar with the process that we are implementing, and the client is not completely familiar with the FlowForma Process Automation tool. This can lead to lots of experimenting with various possible solutions, as there is more than one way to achieve success. Using the different rules and different question types to create a dynamic flow. As a previous blog suggested, it's just like Lego, building out something really cool one step at a time.
Now, SureStart does come with a "homework" element, but this can be a great way for the client to familiarize themselves with the software while simultaneously moving closer to achieving their first flow. Some steps can have a large amount of questions and adding these can be time-consuming and are simply better left to be done when the client has a spare moment.
Going Live
As SureStart progresses, the new flow evolves with the addition of questions and business rules. With this evolution I begin to see the client starting to take a greater degree of control. More homework is getting done by the client as they add questions and new functionality to the flow. The dynamic of the calls change, too. No longer does the client require prompting and guidance. They are in charge, asking specific questions and making more and more suggestions. Then, before you know it, they are ready to release their new flow to their colleagues and they are ready to dive into the next process that needs to be made more efficient.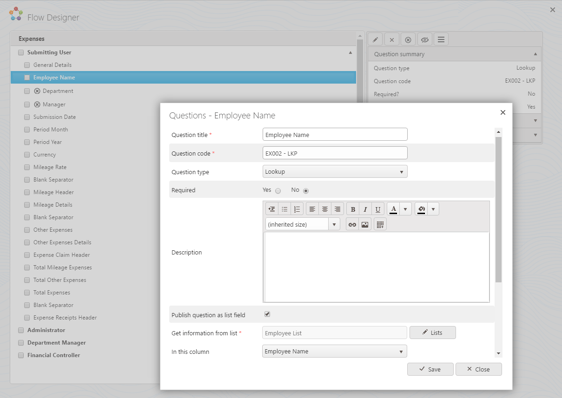 Fig 2. Questions featuring required fields and action buttons
It's fascinating to work with people when they are starting out from the beginning. The processes that they want to implement and how, frequently, the vision that they start out with can change so much as they start to get more and more involved in the build. The moments when they begin to see the automation kick in and when they create their own set of rules in action, are great!
The Fear and The Fun
I would tell everyone to try it out. Build and explore all of the things you can do. I have observed clients who have a very understandable fear of new software. This is not at all unusual but, don't worry, you can't break it. Once they realize this, I have seen clients really start to create some really great flows. So, by accessing a little bit of that old childhood creativity, you can be build the most fantastic flow possibler.
See for yourself, take a free 30 day trial of the FlowForma Process Automation tool today, no credit - card no commitment!
Alternatively, schedule a demo with one of our product experts to learn how you too can drive digital transformation throughout your organization!