Businesses often focus on the big things and assume the smaller ones will just happen or aren't important.In aiming to achieve maximum return on investment, organisations often end up spending most of their change capacity and budget on big ticket application packagesand custom developments. The result is that little or nothing is left to address the myriad of small interactions and steps that together consume a very significant proportion of an office.
Perhaps even more importantly, management is in general unaware of these processes, their cost, the risk they present to the business and the impact they make on customer service and staff morale.
The outcome is often:
Poor morale

Poor take up and ROI for new systems

Poor and slow customer service

High levels of bureaucracy
The rationale given for not addressing these issues is usually the cost and time involved. This is no longer the case. The digital era, with its growth of cloud based computing presents us with much lower costs and an emphasis on self-service.
The Neglected Processes
The three categories below are often neglected and can benefit greatly from a digital approach:


Collaboration processes: These are typically the processes undertaken by the managerial, professional and creative employees to change the services the organisation offers or to govern the way it is run. They can create intellectual property and differentiation for the organisation, but are often inefficient and, because they are usually under-governed, can create regulatory and legal risks. Examples include marketing, legal, bids, product R&D etc.



Hygiene processes: These are the myriad of small processes an organisation deploys to control and manage access to its resources and services. Examples include expense claims, room bookings, service requests and consumables procurement.



Dark processes: The informal and ad-hoc processes, local applications and databases that fill the gaps between the Core, Common and Collaboration processes.These processes encompass the hidden wisdom and inefficiencies in the organisation. Just as we know that much of the universe is composed of dark matter (which we cannot see or touch), likewise we know there are processes taking place that we as managers are unaware of, because the ones we do know about don't completely explain what is happening in our business. Perhaps just as important is that the knowledge of how these processes work walks out of the building every night or takes vacation, during which organisational paralysis can ensue.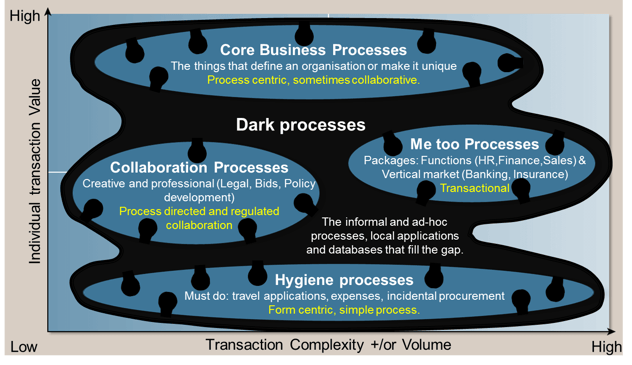 Miracles don't happen, but with the speed and low cost at which well understood processes can now be converted in a system like FlowForma, companies who bring these neglected processes online will benefit greatly from increased productivity, collaboration and visibility.
About the Blogger
Tom Rothwell | Director | Symplyfi.
Director and co-owner of Symplyfi Limited is a subject matter expert in Information management, Business Process Management and Knowledge Management. He was previously the Director of Information Management for Fujitsu, in which role he led and was responsible for the delivery of a large number of Business Process Management consultancy assignments, projects and programmes.
Tom is passionate about leveraging information and knowledge by understanding and improving business processes.
He co-founded Symplyfi, one of FlowForma's UK based trusted partners, to help organisations deliver better and faster service at lower cost by understanding, simplifying and digitally enabling their business processes.